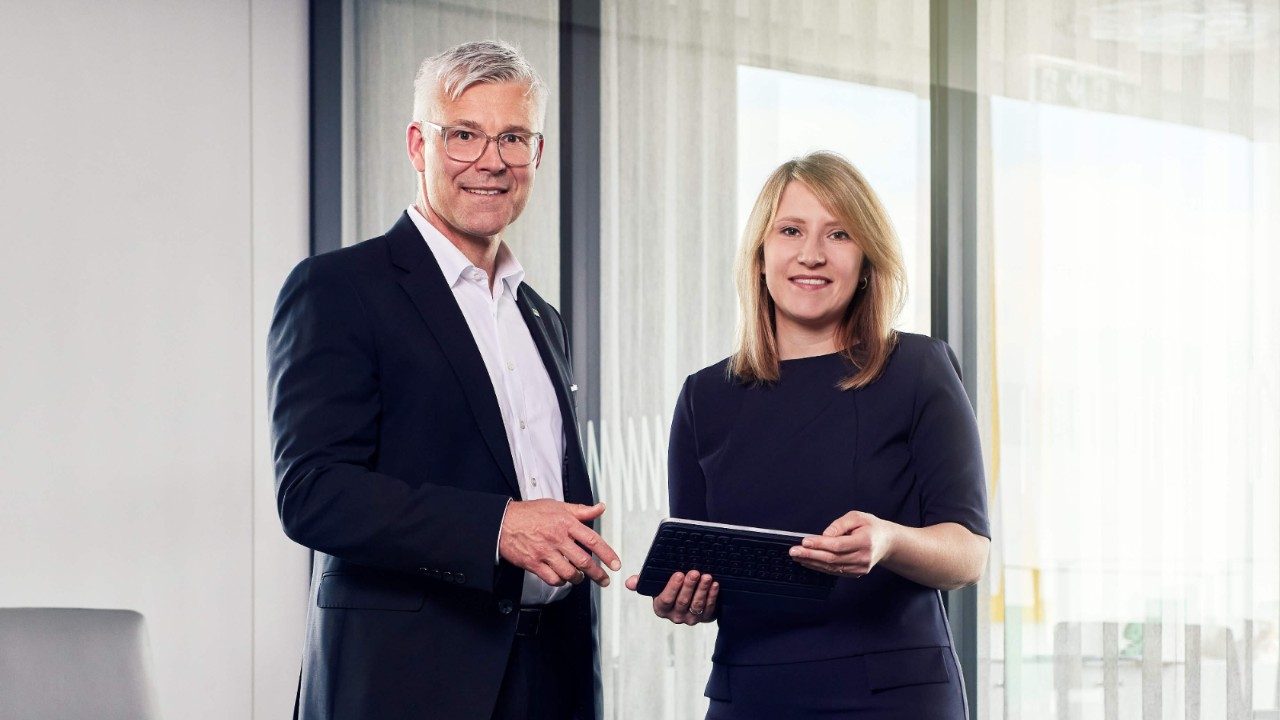 Hanno Höhn, Chief Supply Chain Officer, and Luisa-Sofia Baumann, Manager Project Management Cabin Air Filter
Our "Better than" approach - Transforming for the Future with our Performance Office
HANNO HÖHN, Chief Supply Chain Officer: 2020 may have been the year of the COVID-19 pandemic, but for us at MANN+HUMMEL it was also definitely a "better than" year. In terms of targeted yet rigorous cost savings, we have never been better. We have never been more united as one team, transcending silos and business units and working in flexible and agile teams around the world. And we have never been faster and more transparent in our internal and external communications. These are all great examples of how we have continuously put our global Group Priorities at the forefront of our thinking and actions: Profitable Growth, Transform for the Future, High Performance Teams, Operational Excellence, and Financial Performance.
We have already been challenging ourselves for many years – not only since the beginning of the crisis in 2020. This is precisely why it is possible for us to say today: "We are better than ever". Because a solid basis for transformation can only grow by continuously and critically questioning what already exists. Furthermore, we always act with our key transformation drivers in mind: changing mobility, digitalization and the growing importance of sustainability. In doing so, we were and are aware at all times that leveraging positive short- and medium-term cost management effects before and during the COVID-19 crisis, as well as managing the diverse strategy and structure projects in a focused and disciplined manner within the time frame provided for them, would require extraordinary efforts. To best coordinate across the company and across functions, and in order to ensure a smooth transition from strategy to execution, we created the top 8/8/20 initiative and a Performance Office as a governance platform. The title of this initiative is derived from "to outstanding performance" as well as our strategic targets for sales, profitability and return on investment.
Of course, "top" also simply stands for itself! 
LUISA-SOFIA BAUMANN, Manager Project Management Cabin Air Filter: The top 8/8/20 program consists of four main clusters and two secondary clusters:
"Streamlining the product portfolio" to increase profitability and future alignment.
"Adapting the structure and diversity of locations" in our transportation business unit with over 50 plants worldwide.
Carrying out projects to "optimize our processes and organization" in order to challenge the status quo.
Monitoring large projects dealing with digitalization and transformation, such as analytics, IoT, digital marketing and e-commerce initiatives, but also innovative filtration applications.
Focusing on agile work management and collaboration to ensure consistent application of our project management methodology and concentrating on topics such as leadership, work methods and office space design.
 Accompanying all Performance Office activities with internal and external communication, with the aim of increasing the acceptance of these projects.
We leveraged insights, identified success factors and results from immediate actions undertaken during the first wave of the COVID crisis in the spring of 2020, along with positive momentum, to incorporate selected conceptual ideas such as "Zero Base Spend" into the launch of our Performance Office activities. In the second half of 2020, we launched the Performance Office with more than 20 global and mostly cross-functional "high impact projects" from all clusters while building the team and governance structure.
In a nutshell, the role of the Performance Office is to establish strong governance that ensures the execution of top profitability and transformation projects. We also coordinate and support keeping these projects on top management's radar and beyond. Implementation requires the right approach and, most importantly, the right people. We have both at MANN+HUMMEL. That is why we are  confident that our Performance Office will make an important contribution to successfully and sustainably mastering the ongoing transformation processes – with focus and discipline to achieve outstanding performance.
More Insights from the Year 2020