MANN+HUMMEL Filter Cubes now provide clean Air in Germany, South Korea and Brazil
Ludwigsburg, 19 May 2020 – Towns and municipalities around the world are taking a variety of measures to reduce air pollution and avoid vehicle bans. Solutions include MANN+HUMMEL's Filter Cubes, whose efficacy has been demonstrated in scientific collaborations.
26 filter columns installed on main traffic road in Heilbronn
Filter Cubes in leisure park and residential complex near Seoul reduce air particulate matter
In Brazil, MANN+HUMMEL is helping to reduce particulate matter in the centre of Indaiatuba
After 23 Filter Cubes were installed at Stuttgart's Neckartor intersection in October 2018, the 250 metre-long section of road – previously Germany's worst affected location for particulate matter and hazardous gases – saw a drastic reduction in air pollution. This has convinced other municipal authorities and developers, so that the technology from filtration specialists MANN+HUMMEL is now also in use outside Germany.
Activated carbon helps reduce nitrogen dioxide
In Heilbronn, too, hazardous gases such as nitrogen dioxide are now to be minimized. From July 2020, 26 MANN+HUMMEL combi filters will be installed on a highly frequented section of road in Heilbronn city centre. The systems there are intended to help protect residents and passers-by against particulates that are harmful to health and to help avoid bans on diesel vehicles.
"More and more residents and municipalities are becoming aware of the dangers to health posed by high concentrations of air pollutants, like particulates. As specialists in filtration systems, we at MANN+HUMMEL are using our expertise to help make the air in cities cleaner and thus improve the quality of life," says Jan-Eric Raschke, Director & Chief Product Owner Public Air Solutions.
The enhanced MANN+HUMMEL combi filter includes a filter layer, which retains particles, and additional activated carbon layers for adsorbing nitrogen dioxide. Highly porous activated carbon media are used here, which are able to efficiently absorb nitrogen dioxide due to their large surface area. The technology stands out thanks to its particularly low pressure reduction. This means it can clean air efficiently while keeping energy usage low. Control electronics enable the user to adapt filter operation and to react to the current air quality.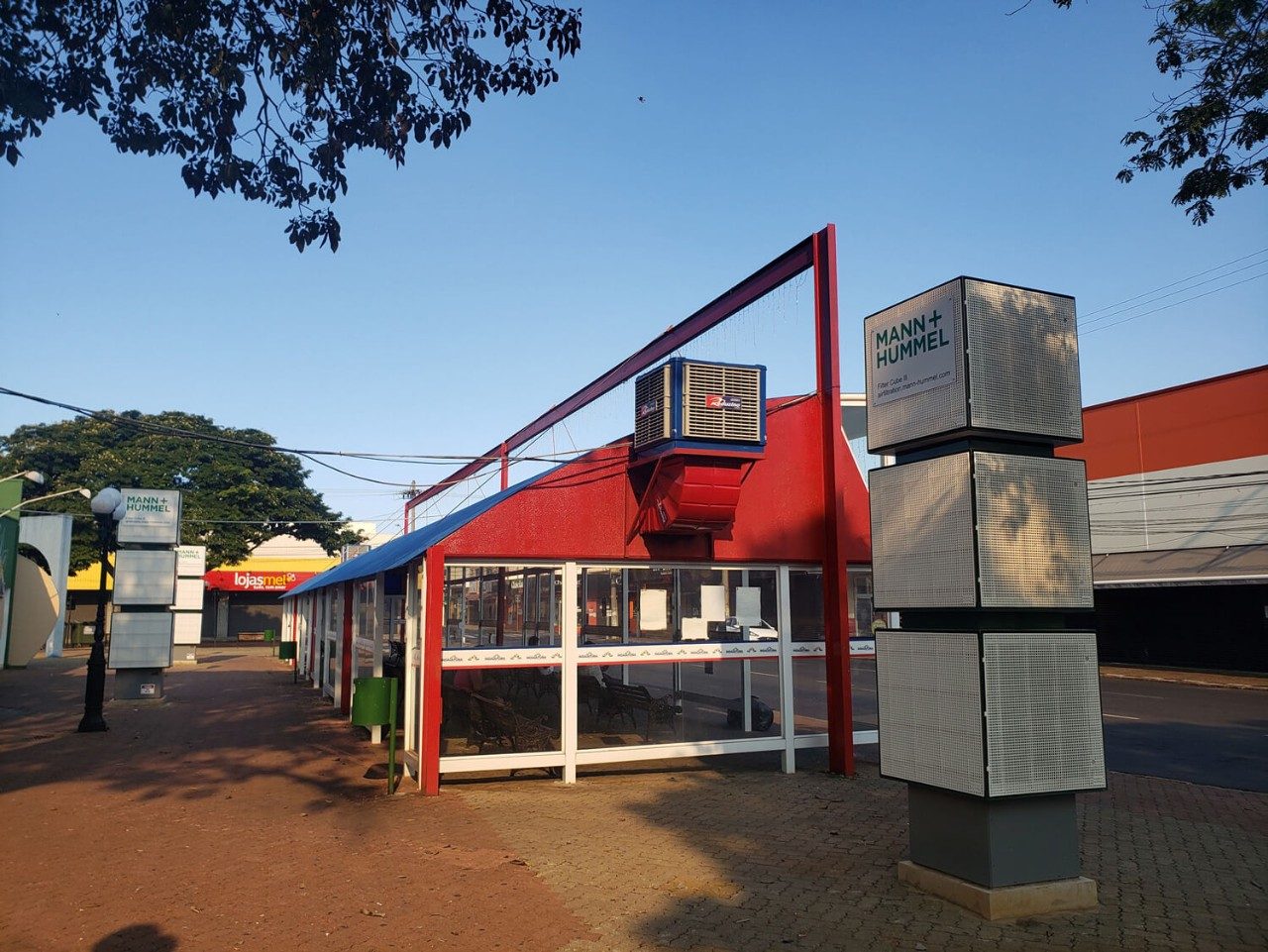 City Centre Indaiatuba, Brazil
From Ludwigsburg to the world
In the South Korean capital Seoul, where the subject of particulate matter is increasingly becoming the focus of public attention, SAMSUNG C&T Corporation wants to offer visitors to the 'Everland Resort' improved air quality and therefore installed eight Filter Cubes III in the leisure park's entrance area in January 2020. The company also had two filter columns installed at a playground in a newly build residential complex to protect children from particulate matter while they play.
In Indaiatuba, Brazil, an inland city with around 235,000 residents, four Filter Cubes were installed at the beginning of March. The filter columns will be used for a six-month study in the city centre, where there is a high concentration of bus and passenger traffic. The technology, which has never been seen before in Brazil in this form, filters 80 percent of particulates between 2.5 and 10 microns. There are also plans to extend the project to other Brazilian cities and metropolitan areas.
So far, 92 columns have been installed on three continents. In total, MANN+HUMMEL Filter Cubes clean 1.25 million cubic metres of air per hour worldwide. Filter Cubes can be used anywhere in the world where people are exposed to particularly high levels of particulate matter and nitrogen dioxide. This applies, for example, to streets with heavy traffic and large intersections. Further application areas include bus stops, train stations and underground stations. In addition to the free-standing Filter Cubes, MANN+HUMMEL also provides filtration systems that can be integrated directly into bus stops or into advertising or information boards.