Virus-free air indoors: Filtration specialist MANN+HUMMEL presents antiviral air purifiers to contain the Corona pandemic
High-performance room air purifiers with HEPA H14 filters
Filtration of more than 99.995 percent of viruses, bacteria and microorganisms from the air - including SARS-CoV-2
Quiet, highly-efficient and with an attractive design
A smart long-term investment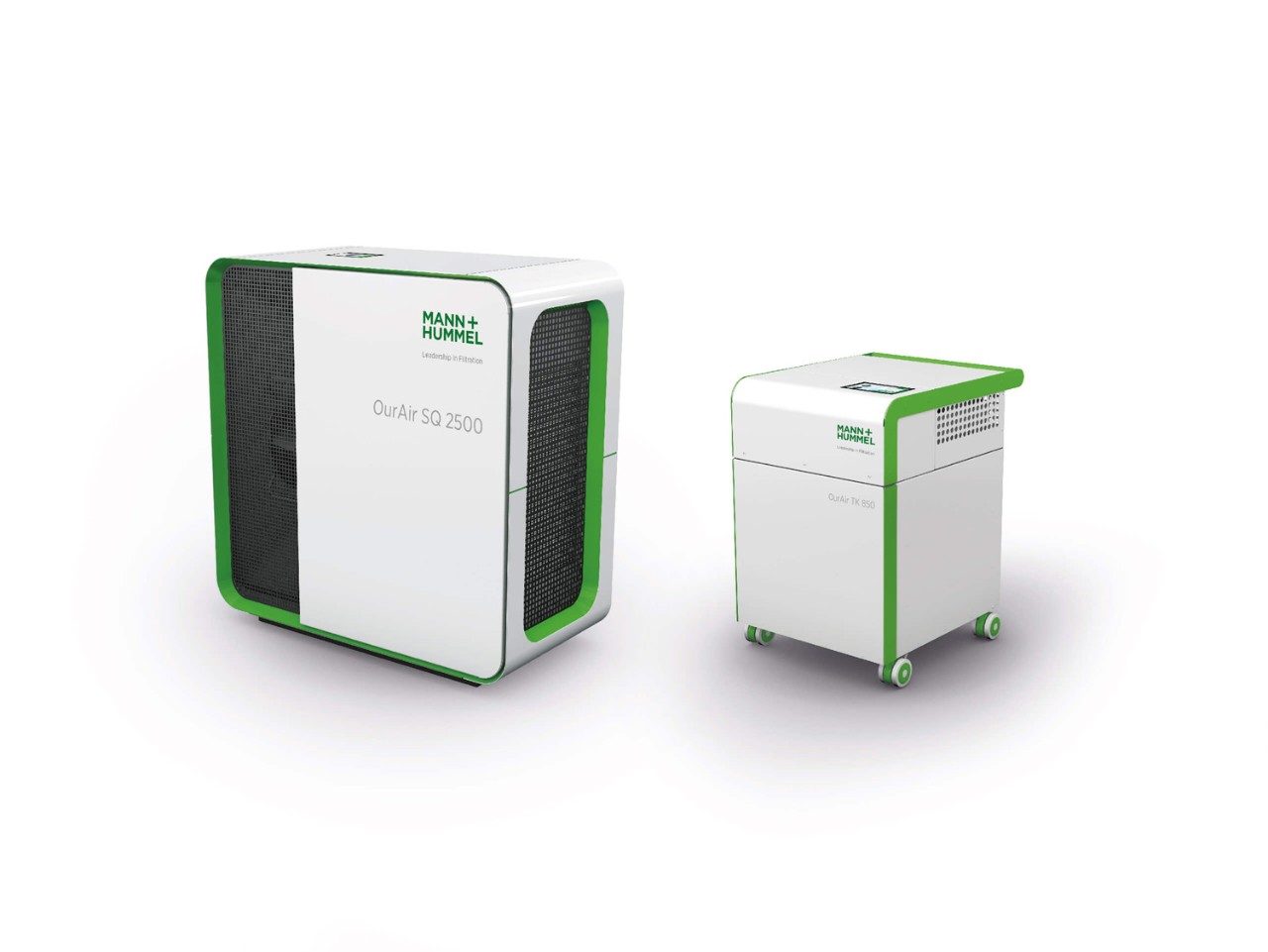 The MANN+HUMMEL OurAir SQ 2500 and OurAir TK 850
Ludwigsburg, 1 December 2020 – The MANN+HUMMEL Group, based in Ludwigsburg near Stuttgart, has succeeded in developing comprehensive solutions to contain the corona pandemic: The HEPA H14 filters (individually tested according to ISO 29463 & EN 1822) installed in the two new mobile and stationary high-performance room air purifiers, OurAir TK 850 and OurAir SQ 2500, are capable of reliably filtering more than 99.995 percent of viruses, bacteria and micro-organisms from the air. As such, they help to minimize the risk of infection in internal spaces. The devices are modern in their design, and thanks to the innovative ePTFE medium, they operate at high performance with particularly low noise levels. This allows infectious virus particles such as SARS-CoV-2, which can attach themselves to aerosols, to be almost completely filtered out.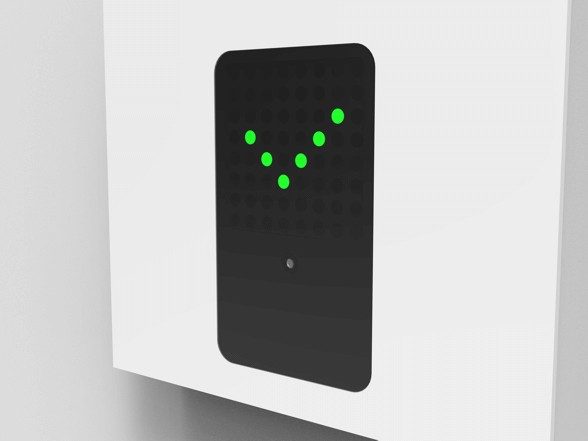 Contactless body temperature measurement for entrance areas: "Safe Entry" by Buildtelligent
At today's virtual press conference, the leading manufacturer of state-of-the-art filtration solutions presented the two new high-performance room air purifiers to the media in Austria and Switzerland, following a successful product launch in Germany in mid-September. These create almost completely virus-free air in internal spaces. The stationary room air purifier OurAir SQ 2500 is suitable for rooms of up to 200 m² and the mobile room air purifier OurAir TK 850 for rooms of up to 70 m². Both devices replace the air contained within the specified room sizes five times per hour, allowing the aerosol concentration in rooms to be quickly reduced by a significant amount, and kept at a constantly low level. Further added value is created thanks to the energy efficiency of the devices. The high energy consumption, which occurs especially in the winter time with frequent ventilation and thus a constant cooling of the room, can be reduced to a minimum with the air purifiers. 
The technology also helps to protect against infections caused by colds, flu viruses and mould spores. Beyond that the devices filter free allergens from the air and thus also help against allergy complaints in the pollen season.
"Our air purifiers are a complementary measure to the existing hygiene and distance regulations and an important component for a speedy resumption of our habitual everyday life. We are proud that our technologies are able to help schools, hospitals and other institutions to continue operating as normal. In order to make the purchase of our devices easier, we offer attractive leasing models," explained Jan-Eric Raschke, Director & Chief Product Owner Public Air Solutions. "Air purifiers are a sensible long-term investment, because they filter not only the SARS-CoV-2 virus, but also flu and cold viruses and free allergens. As a result, they can make a decisive contribution to reducing absenteeism due to illness or allergies in the future."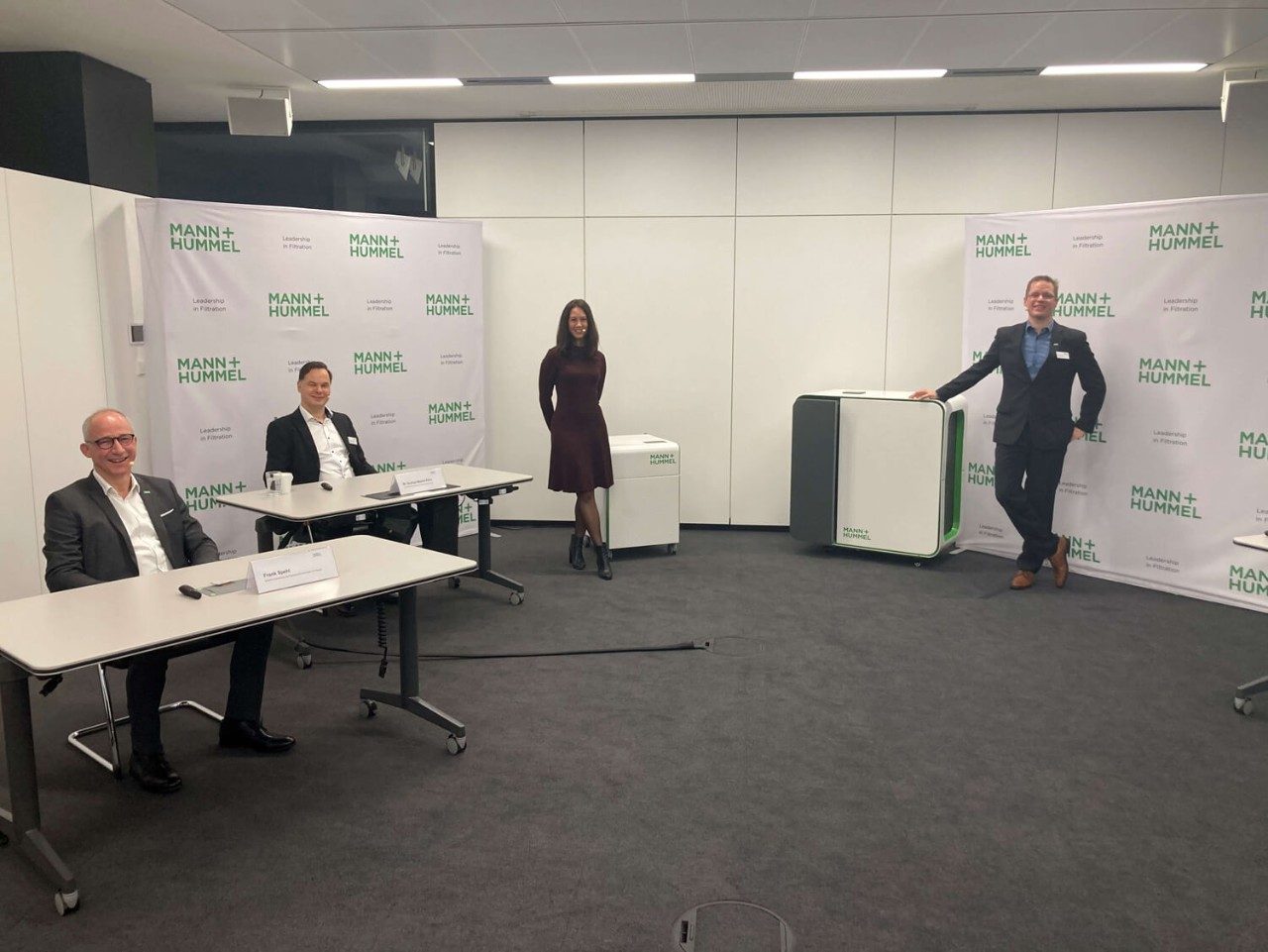 Four of the podium participants at the virtual press conference to present MANN+HUMMEL's antiviral air purifiers: f.l.t.r. Frank Spehl, Director Engineering Life Sciences & Environment Airfiltration MANN+HUMMEL; Gunnar-Marcel Klein, Vice President Engineering Life Sciences & Environment MANN+HUMMEL; Kathrin Sauter, Director Marketing Communications Life Sciences & Environment MANN+HUMMEL ; Jan-Eric Raschke, Director & Chief Product Owner Public Air Solutions MANN+HUMMEL
Study proves effectiveness of mobile air purifiers
Current measurements carried out by Prof. Achim Dittler from the Institute for Mechanical Process Engineering and Mechanics at Karlsruhe Institute of Technology, including in the classroom of a primary school, prove that the devices are highly efficient in reducing the aerosol concentration and therefore the risk of infection with viruses and bacteria. "The filter quality is the deciding factor when it comes to air purifiers. At MANN+HUMMEL, we fondly look back on our 80 years of experience in filtration, and more than 40 years of expertise in the field of clean room filtration and OP filtration. Thus we have been specialized in particularly sensitive areas for many years. Our quality standards are reflected in the durability of our devices," said Dr. Gunnar-Marcel Klein, Vice President Engineering Life Sciences & Environment. The areas of application range from gastronomy to public institutions such as schools or care homes, offices, retail, airports, hospitals, shopping centres and industrial businesses, right through to event venues and transportation.

Conversion and upgrade of air conditioning and ventilation systems with HEPA filters
In addition to mobile antiviral air purifiers, MANN+HUMMEL also offers the conversion and upgrading of air conditioning and ventilation systems, which also significantly reduces the risk of infection in internal spaces. Based on decades of experience in the field of clean rooms and operating rooms, MANN+HUMMEL were able to develop a new ePTFE HEPA filter in the H14 class. With filtration efficiency of more than 99.995 percent according to EN 1822, it offers optimum protection against viruses, bacteria and microorganisms. The new medium makes it possible to reduce the differential pressure by 50 percent compared to HEPA filters made of micro glass fibre media and is thus on a par with a "pre-corona" filter system in terms of the operating costs of an air conditioning and ventilation system. The filter also meets the requirements of class E fire protection according to EN 13501.

Corona early detection using wireless sensors for entrance areas
Another factor in reducing the number of Corona infections is early detection of potentially infected people. According to the WHO, fever is one of the most important symptoms. This is why the Vienna-based company Buildtelligent has developed a wireless sensor for entrance areas, which they also presented at today's press conference. They call it "Safe Entry". The sensor detects the thermal radiation emitted by the human body. As a complementary measure to the air purifiers from MANN+HUMMEL, this ensures even greater safety indoors.