70 years of MANN-FILTER: Proud of every wrinkle
Ludwigsburg, August 16, 2021 – How it all began: Adolf Mann and Dr. Erich Hummel established "Filterwerk Mann + Hummel" back in 1941 in Ludwigsburg as it was called back in the day. Today, eight decades later, MANN+HUMMEL has grown to become the world's leading filtration expert, employing more than 21,000 people at over 80 locations, with sales totaling 3.8 billion euros (in 2020). MANN-FILTER was there from the very beginning and is still part of the company today as a globally valued brand.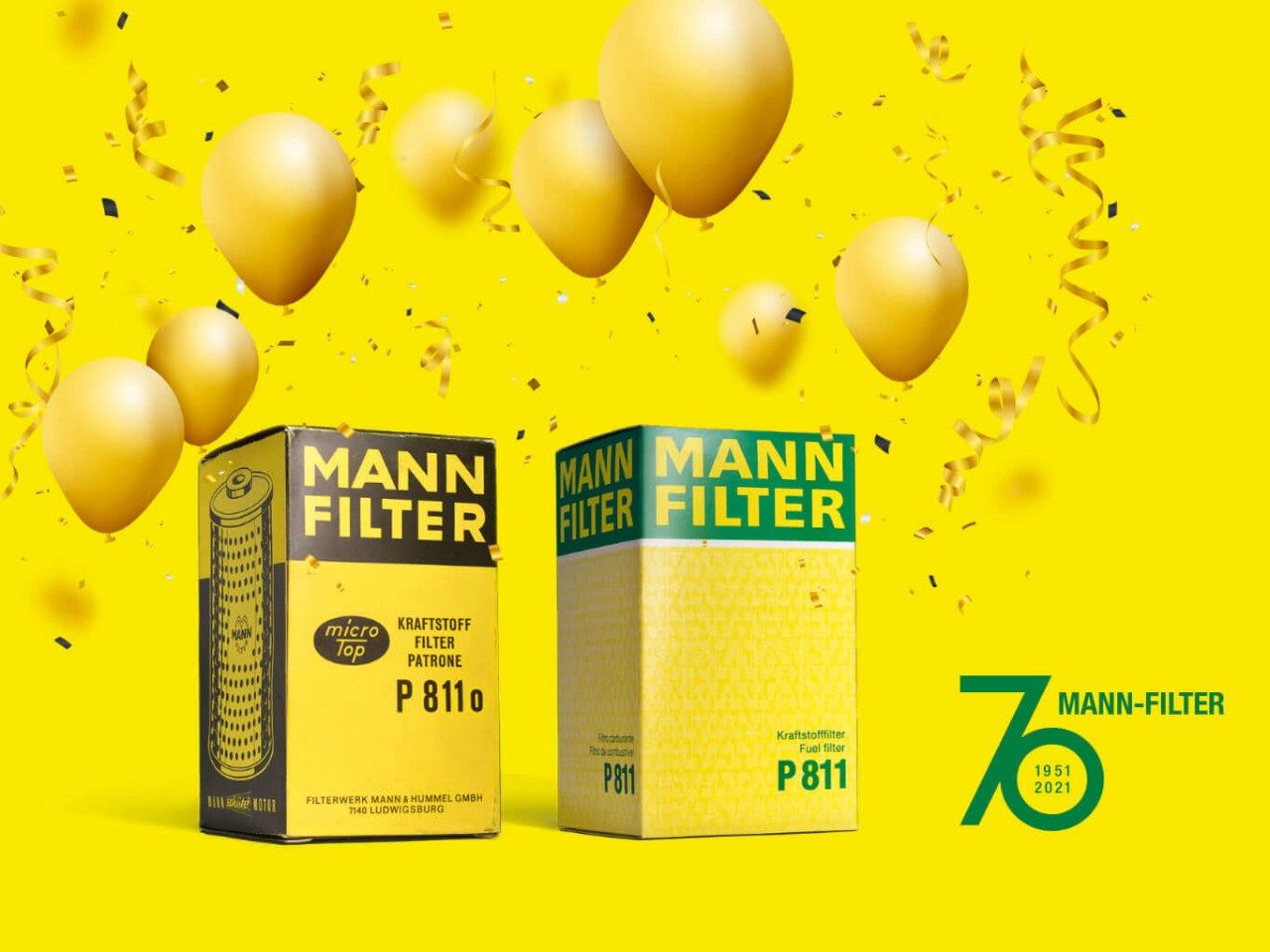 MANN-FILTER: Then and now
70 years ago, on August 16, 1951, MANN-FILTER was first registered as a trademark. What started as a small national brand in Ludwigsburg also gained international popularity starting in the 1960s. Today, the premium brand is an undisputed force in filtration technology for the automotive and industrial sectors worldwide.
Their filters combine the entire know-how and experience of the MANN+HUMMEL Group in a comprehensive product portfolio – and in 100 percent OE quality for the aftermarket around the globe.
"We look back with pride on the very successful 70-year history of our premium brand, which we continue to write every day," affirms Simon Frick, Vice President  Sales IAM Europe at MANN+HUMMEL.

"We are taking the anniversary as an opportunity to thank our customers around the world – for their many years of loyalty and for good and successful collaboration. This development would not have been possible without our customers," adds Frick.
As one of the few brands in the automotive aftermarket, MANN-FILTER has managed to become an icon with cult status over the years with its striking yellow-green color scheme. For a few years now, they've been enjoying the same success in motorsports as well. Here, it is the yellow-green mamba that is generating a lot of excitement among its growing fan base.
Award-winning worldwide
MANN-FILTER is a big hit. This is certainly evident from the many awards received worldwide. The fact that customers independently choose their favorites further reinforces this. "Our numerous awards make clear how much our customers appreciate MANN-FILTER. We are very proud and happy about every single one, such as the "Best Brand" award from ETM Verlag in cooperation with the Automechanika trade show," says Frick. "To receive this award for the tenth time in a row on our 70th anniversary is a great gift and a great honor. It motivates us to continue developing innovative products for vehicles and machines while offering comprehensive service packages."
A glimpse into the future
"Seven decades of successful brand history also means we bear a great responsibility for the future. And it goes without saying that we want to live up to this obligation. To meet the challenges ahead, we are developing the filters of tomorrow in the vehicles and machines of today. After all, we want to still make the same promise to our customers in the future: MANN-FILTER – Perfect parts. Perfect service."