Ludwigsburg/Berlin, June 2021 – What do trade fairs and conferences, festivals and large events across Germany have in common? They have all been severely limited in their scope, exclusively held online or have not been held at all during the past year because of the pandemic. From 16 to 18 June, GREENTECH FESTIVAL in Berlin will be taking a step back towards normality with visitors and exhibitors attending in person and a comprehensive programme of talks. MANN+HUMMEL antiviral air purifiers will also be present at the event. These devices are an integral part of the event's official hygiene and safety concept and were the subject of particular attention during the approval process by the Berlin authorities.
"We may be used to exhibiting but providing our technology to ensure the event goes ahead safely in the first place is certainly something new for us. We look forward to a special event experience in a safe environment," says Jan-Eric Raschke, Director Air Solution Systems at MANN+HUMMEL. The Ludwigsburg filtration specialist has provided over 50 antiviral air purifiers, which are being spaced out across the 3500 m2 exhibition space at Kraftwerk Berlin and the Heeresbäckerei.
The devices purify the air five to six times per hour. Thanks to their HEPA H14 filters, certified according to ISO 29463 and EN1822, they are capable of safely filtering more than 99.995 percent of viruses and their mutations, bacteria and micro-organisms from the air. This keeps the aerosol concentration in the exhibition space to a minimum.
"We are grateful that GREENTECH FESTIVAL was approved as a pilot project by the Berlin Senate. This means that our sustainability event is one of the first events in Berlin that can take place both online and with visitors," says Marco Voigt, co-founder of the GREENTECH FESTIVAL. "This is being made possible thanks to our extensive safety and hygiene concept and over 50 antiviral air purifiers from MANN+HUMMEL. We are thereby representing a whole industry in showing that events with members of the public can be held with the best possible health protection.
Senator for Economy Ramona Pop (Alliance 90/The Greens) hopes that the four Berlin pilot projects will be just the start towards the situation returning to normal: "Falling infection rates and rising vaccination rates are enabling us to take further steps towards opening up. With these pilot events in Berlin, we are showing how events and meetings can be implemented safely and using digital capabilities during the pandemic."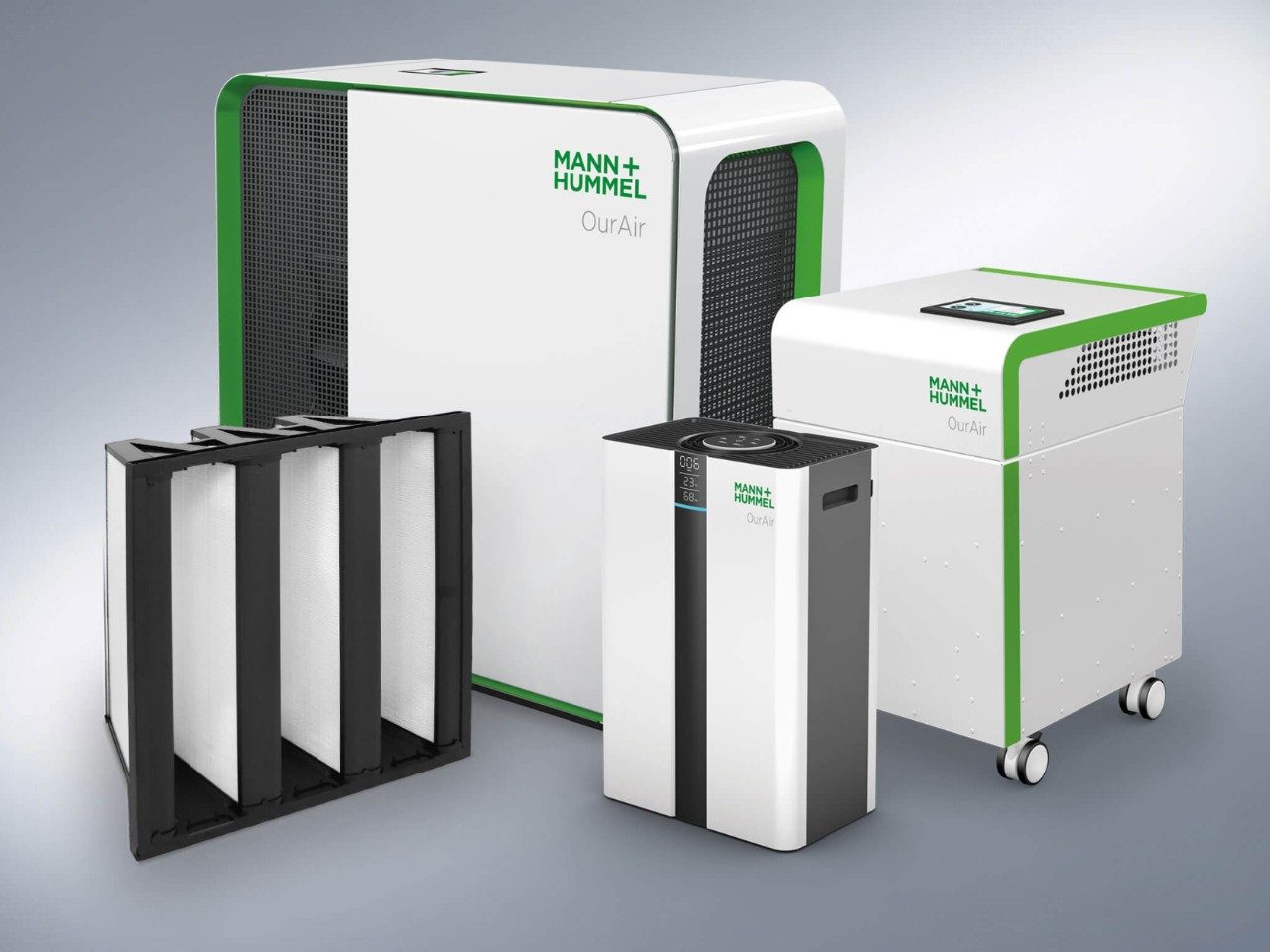 Virus-free air with air purifiers and air filters from MANN+HUMMEL
Solutions for organisers and locations
It will still be some time before trade fairs, conferences and (major) events can take place in the usual way and on the usual scale. However, low infection rates, distancing rules and access restrictions, and mask and testing obligations are sure to be key criteria for events to obtain official approval.
"The ability to provide virus-free, filtered air represents a high-profile and effective addition to the catalogue of measures against the pandemic," says MANN+HUMMEL expert Raschke. "Alongside our mobile devices, we also have solutions for upgrading permanently installed ventilation systems to HEPA level in our range. These can be made 'coronavirus fit' in just a few steps. The filtration solutions will also be useful after the pandemic, For example, they reliably filter flu viruses and free allergens from the air!"

Overview of solutions
Depending on the size of the room, MANN+HUMMEL's portfolio includes three mobile air purification systems, which supply healthier, virus-free air in almost any internal space: the OurAir SQ 500 (for rooms up to 40 square metres), theOurAir TK 850 (for rooms up to 70 square metres) and the OurAir SQ 2500 (for rooms up to 200 square metres). For especially large rooms, several devices can be positioned on a modular basis. The same also applies for the rooms at GREENTECH FESTIVAL. The devices provide healthier air according to the plug-and-play principle.
Each model in the series is fitted with a H14 HEPA filter, which collects more than 99.995 percent of viruses, bacteria and other micro-organisms in the air. These filters are individually tested to guarantee the highest possible level of safety.
Alternatively, there are also HEPA filters available for central air conditioning systems. Thanks to the Nanoclass Cube Pro Membrane Filter, the systems can operate in energy-efficient re-circulation mode, ensuring that the air intake is of cleanroom quality.
Contact options
Visitors to GREENTECH FESTIVAL in Berlin can go straight to the Ströer and MANN+HUMMEL stand to find out about the various products and services, and speak to filtration experts about the equipment used at the festival.
For more information on mobile and stationary products from MANN+HUMMEL, please visit ourair.com.