Vaccination bus fitted with air purifiers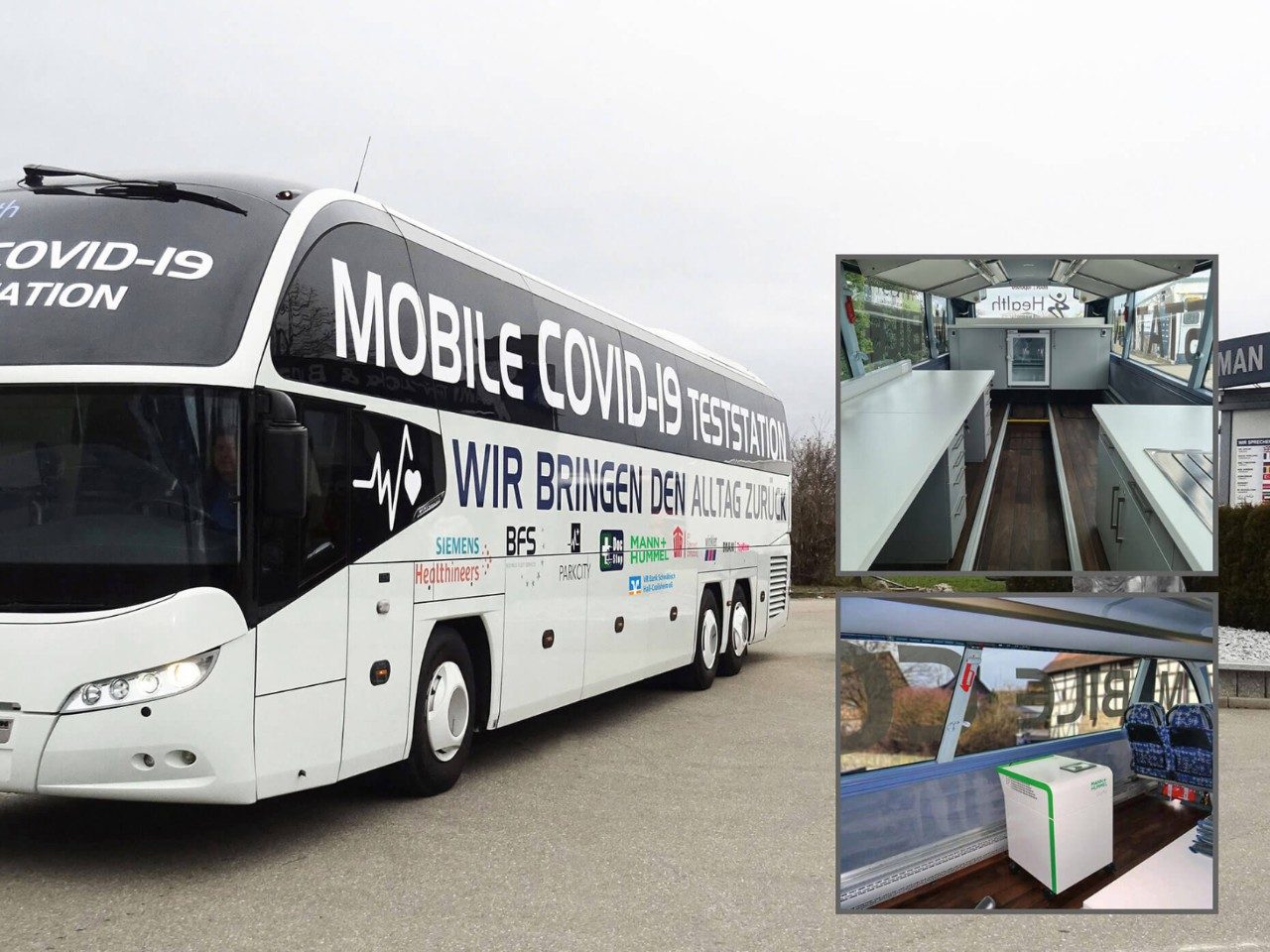 MANN+HUMMEL air purifier ensures virus-free air on-board the vaccination bus
Ludwigsburg, March 2021 – In collaboration with Health Laboratories GmbH, mobility service provider BFS Business Fleet Solutions GmbH is doing its part in the battle against COVID-19 by turning a MAN Neoplan Cityliner coach into a vaccination centre on wheels. For the promising pilot project, BFS has converted the luxury coach into a mobile testing and vaccination centre in just a few weeks, with MANN+HUMMEL kitting it out with specialist antiviral air purifiers.
The mobile TK850 air purifier, along with the HEPA air filter (individually tested according to ISO 29463 & EN 1822) installed in the roof interior, is capable of reliably filtering more than 99.995 percent of viruses, bacteria and micro-organisms out of the air. "Just like in regular waiting rooms and vaccination centres, our air purifiers can also be used to filter viruses inside the bus. This ensures that all staff and visitors are protected against infection – an important requirement for the new mobile vaccination strategy," says Jan-Eric Raschke, Director of Air Solution Systems at MANN+HUMMEL. "We are delighted to provide BFS with our air filter systems and to be able to make a contribution to finding new routes out of the pandemic."
The bus can be used in any location where testing and vaccination is required. It is fitted with all the technical equipment it could possibly need and is equipped to provide instant test results. Health Laboratories GmbH, which operates the mobile laboratory, developed the medical concept in collaboration with Siemens Healthineers, with sponsorship from Dr Kai Gutensohn. Health Laboratories GmbH offers local testing, vaccinations and even other medical examinations that can be carried out in the mobile laboratory. Even after the vaccination phase, the MANN+HUMMEL air purifiers will remain relevant to the project, as the filtration systems provide general protection against airborne virus transmission and can therefore minimise the spread of colds and flu-like illnesses, too.

"We see the bus as a sort of prototype," says BFS Managing Director Jan Plieninger. BFS is currently in discussions with several local authorities and service providers, who are very interested in the mobile testing and vaccination centre. Inquiries have also been coming in via DocStop, an initiative for truck drivers requiring medical assistance. "We are pretty confident that we will end up converting and offering several more buses. Once public events are allowed to resume, our bus will provide a flexible way of carrying out COVID-19 testing on large numbers of visitors. For its first mission, the bus will shuttle between schools in the Schwäbisch Hall district, in order to test as many students and teachers as possible," Plieninger announces.