ScandMist 70D OEM – Program Expansion for Manufacturers of Machining Centers
Ludwigsburg/Sprockhövel, March 17.2020. MANN+HUMMEL launches the new ScandMist 70D OEM oil mist and oil smoke separator which has been designed for lower flow volumes up to 700m3/h. The separator can be directly fitted to the enclosure of the machining center. Thanks to its many benefits, the ScandMist 70D OEM is ahead of similar electrostatic separators in terms of overall operating costs.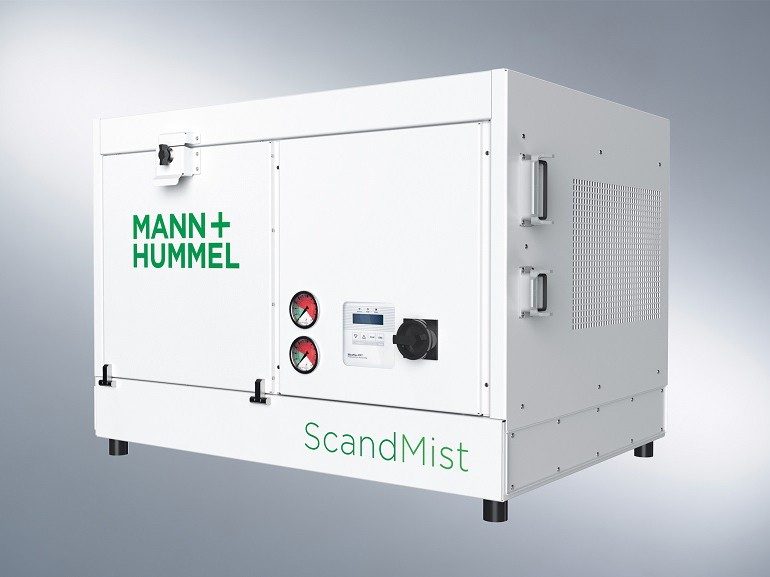 ScandMist 70D OEM – program expansion for manufacturers of machining centers
New product size: ScandMist 70D OEM to separate oil mist and oil smoke at up to 700m3/h
For direct fitting to the enclosure of a machining center
Advantages: compact design, simple maintenance, energy-efficient EC motor
The ScandMist 70D OEM is ahead of electrostatic separators in terms of total operating costs
As all products in the ScandMist range, the ScandMist 70D OEM features a resistor-regulated EC motor. EC stands for "electronically commuted", and allows highly precise, continuous speed control. The EC motor significantly reduces energy costs and minimizes noise emissions. Unlike electrostatic systems, which have to be serviced multiple times a year, MANN+HUMMEL products can run for up to two years without maintenance.
The mechanical separator comprises three filter stages: a pre-filter, a coalescence separator and a class H13 HEPA filter. 99.95 percent of the aerosol is separated.
An industrial connector makes electrical cabling easier. Thanks to the standard available input and output signals, the filter can be remotely controlled, e.g. when turning on the processing center. Two individually programmable output signals can also indicate an upcoming filter change.
Find more details about MANN+HUMMEL air filtration products here.