Foreword by the Management Board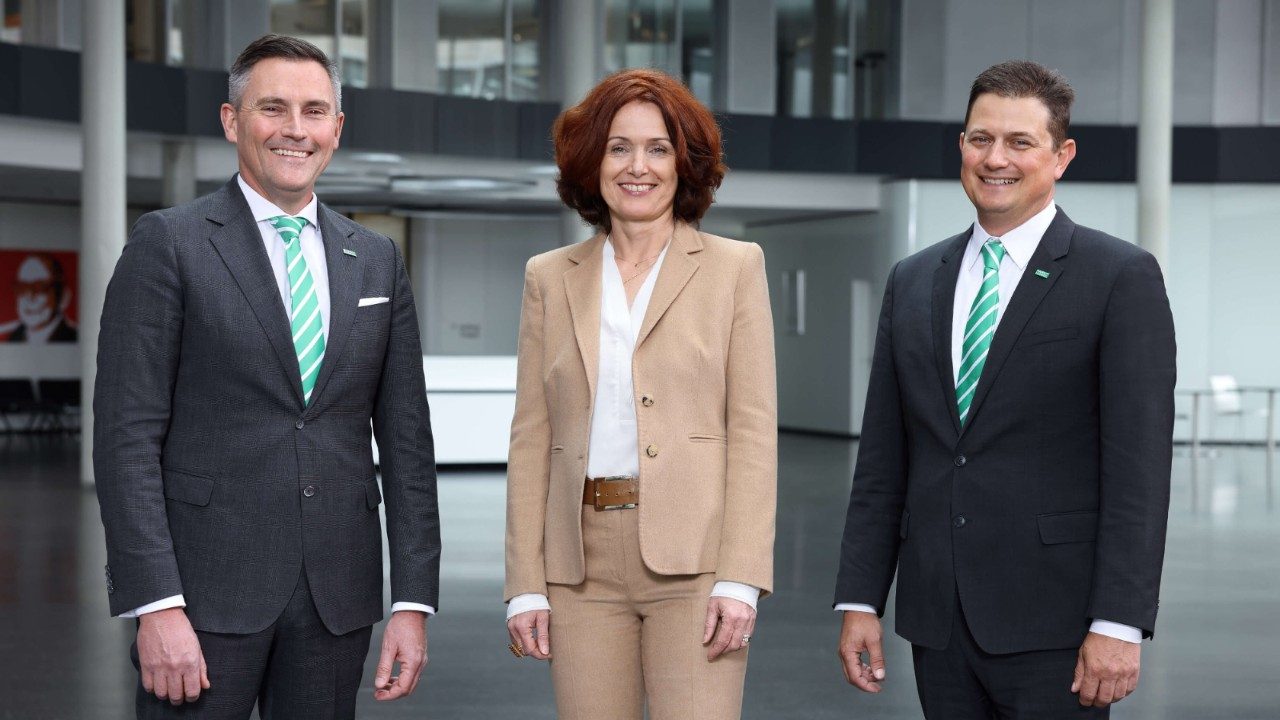 Nicolaas Zerbst (COO), Emese Weissenbacher (EVP & CFO) & Kurk Wilks (CEO)
Dear ladies and gentlemen,
dear business partners,
In 2020 with the onset of COVID-19, the MANN+HUMMEL Group took quick and clear actions to bring the required focus needed to navigate exceptionally uncertain times. As one team, we agreed early on to prioritize three goals:
KEEP OUR PEOPLE SAFE
KEEP OUR CUSTOMERS IN FOCUS AND SUPPORTED
ENSURE OUR FINANCIAL STABILITY
Considering future needs and following a strategic review of our global presence, we took the difficult decision to close specific sites in Asia, the Americas, and in Europe. While we understand the impact this has on our workforce, we firmly believe the decisions were necessary to support the transformation and continued success of our business.
We established a Performance Office reporting directly to our Management Board with the clear mandate to provide the focus, resources, and governance we will require to fully transform MANN+HUMMEL for the future. We also continued to invest in our key strategic initiatives.

MANN+HUMMEL had solid liquidity throughout the year. This was thanks to our robust financing strategy based on the committed revolving credit facility, as well as the timely refinancing of our Green promissory bill.
One area we continue to focus on and expand as a company is our new drive solutions and fuel cells for electric vehicles. At the same time, we are also continuing to develop important projects that support the internal combustion engine. We are confident that we can continue to develop and deliver the best solutions for sustainable mobility – today and in the future.
In 2020, we continued to pursue our aggressive growth and expansion strategy in the Life Sciences & Environment segment. We saw strong growth in our air filtration business and also acted quickly at the onset of the pandemic to deploy our HEPA filtration solutions, which safely capture more than 99.995% of viruses and their mutations from indoor air, making a positive contribution to the fight against the Coronavirus. In addition to developing increasingly energy-efficient HEPA filters, our development engineers also succeeded in providing stationary and mobile air purifiers with HEPA filters. As a result, this enabled us to significantly expand our presence in the air purification sector. Following the acquisition of helsatech GmbH in September 2020, we are now strongly positioned to grow in the areas of molecular filtration and activated carbon solutions.
After the increase in sales in 2019, we experienced a decline in growth of 8.9% with sales of EUR 3,839 billion in 2020. This was mainly due to the cooling of the global economy. Although we missed our target for total sales as a result of this market contraction, we still achieved EBIT of EUR 165 million.

The key factors here were the steps initiated to control costs and the other measures implemented in the reporting year. As a result, we were able to increase EBIT by 7.6% compared to 2019. This increase and the targeted control of our working capital led to a positive development of our free cash flow compared to the previous year. Consequently, we were able to continue deleveraging as planned.
In 2021, we will celebrate our company's 80th anniversary, and we will continue to work as one team with all our stakeholders towards our common goals: The development and production of filtration products and solutions to meet the existing and future challenges of the planet with appropriate solutions. Our more than 21,000 employees are spread across more than 80 sites on six continents. As one team – united by our mission to "Separate the useful from the harmful" – we remain committed to our vision of "Leadership in Filtration". As a result, we look to our shared future with confidence.
The COVID-19 pandemic has sent us a clear message: Humanity is unequivocally connected – be it global issues, resources, or even the air we breathe. And to meet these global challenges, we need to have common goals.
We believe one of our most important common goals is a cleaner planet; it is our common space, and we share its resources. Because when it comes to cleaner mobility, air, and water, there is no mine or yours – there is only ours. The world we live in, the air we breathe, the water we drink, and the ground we walk upon has always  been common ground.
We are firmly committed to the issue of corporate social responsibility. That is why we sustainably improved our carbon footprint in 2020.
We would like to thank our employees for their collective dedication, the employee representatives for their contined involvement, the shareholders and Supervisory Board for their support, and our business partners for their trustful cooperation. We look forward to shaping our common future  together.
Ludwigsburg, June 2021
Kurk Wilks, CEO
Emese Weissenbacher, EVP & CFO
Nicolaas Zerbst, COO
3.9 billion €
Total assets
108 million €
Investments in R&D
80+ locations
on 6 continents