MANN+HUMMEL - Oil filter modules for PACCAR
The new PACCAR MX-13 engines are high performance and extremely efficient. MANN+HUMMEL further developed the existing module to ensure reliable oil filtration and integrated numerous functions.
Trucks from Kenworth, Peterbilt and DAF are real workhorses. Under the hood the high performance 12.9 liter engines from PACCAR, the American parent company, provide the power – and efficient oil filtration ensures that it is always reliably transmitted to the road. MANN+HUMMEL supplies the American manufacturer with the oil filter module for the new MX 13 engines developed in the Netherlands at DAF and produced in Eindhoven, Netherlands and Columbus, USA. Based on the previous model, the oil filter module continues to impress with numerous integrated functions. In addition to the main flow oil filter it includes a bypass centrifuge, a thermostat element, a cooler, a temperature sensor and a number of valves.
Centrifuge extends service interval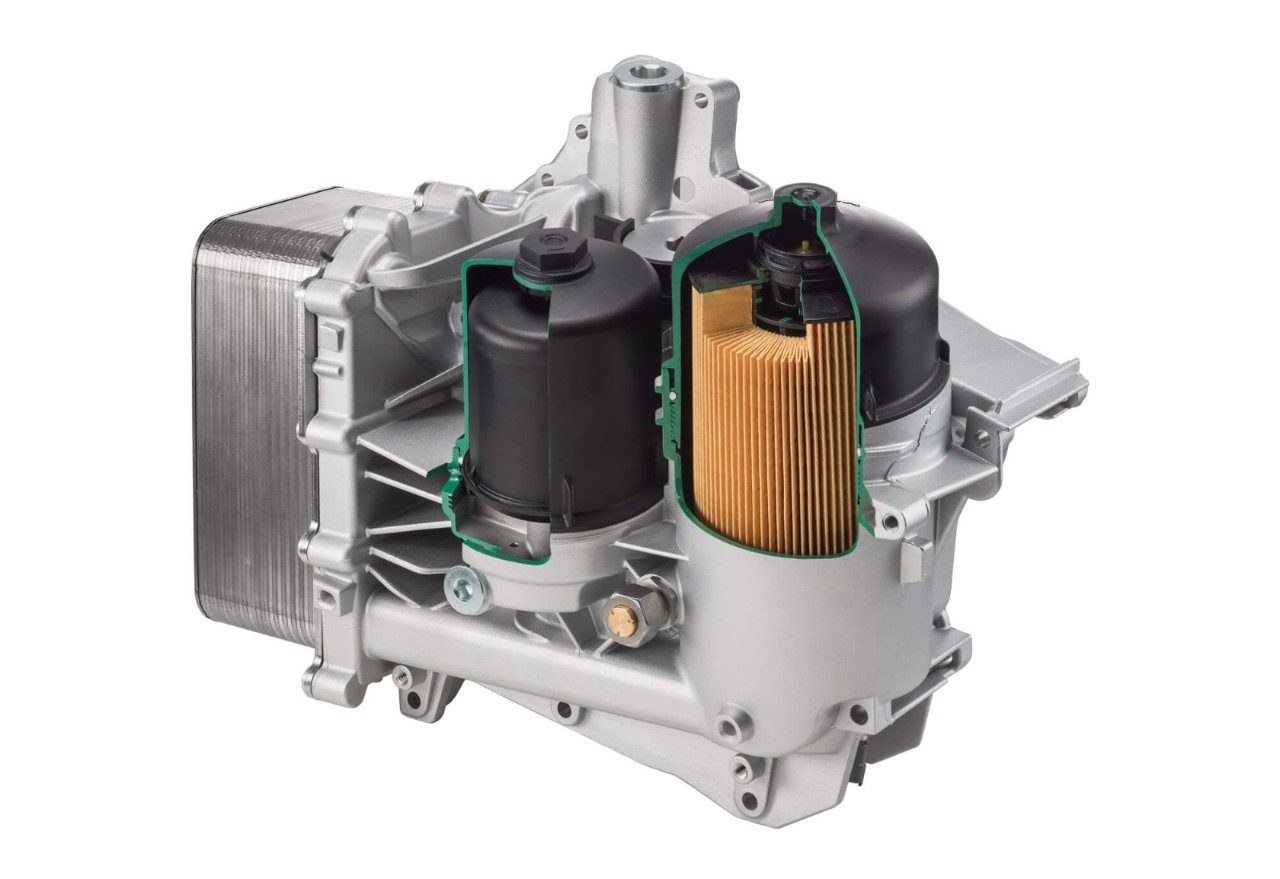 MANN+HUMMEL oil filter module for PACCAR MX-13 engines
Depending on the application, the module can be fitted with a centrifuge as an option. The centrifuge increases the separation performance through a more efficient separation of soot and dirt particles. The result is impressive with a doubling of the service interval from 100,000 kilometers to 200,000 kilometers when fitted with a centrifuge.
The engineers also integrated intelligent thermal management. The core is a wax element, which almost constantly maintains the oil temperature in the required range. The element already reacts to small shifts in temperatures in the range of 112 and 122 degrees Celsius. If the temperature increases, the position of the metal pin in the wax expansion element changes. This opens the flow to the cooler and the temperature decreases. At 112 degrees Celsius the wax expansion element resumes its original position and closes the channel to the cooler.
The oil module is equipped with a patented service function from MANN+HUMMEL to ensure an easy and clean change of the filter element. When the cover is unscrewed to change the filter, the dual concentric seal of the oil drain channel is opened and the oil can flow back to the oil pan. The bayonet connection allows the easy and secure removal of the filter element from the cover. A stand pipe centers the filter element during installation in the module and ensures that the new element is fitted in the correct position.
Thanks to an intelligent channel design it was possible to further reduce the pressure drop. Together with a controlled oil pump, this leads to a reduction in engine fuel consumption and therefore to an advantage for the fleet operators. On the request of PACCAR the cooler of the oil filter module is coated with a diffusion barrier. This prevents copper particles from entering the oil circuit. The result is an improved protection for engine components such as the turbocharger. The project further strengthened the long-term cooperation between PACCAR and MANN+HUMMEL.