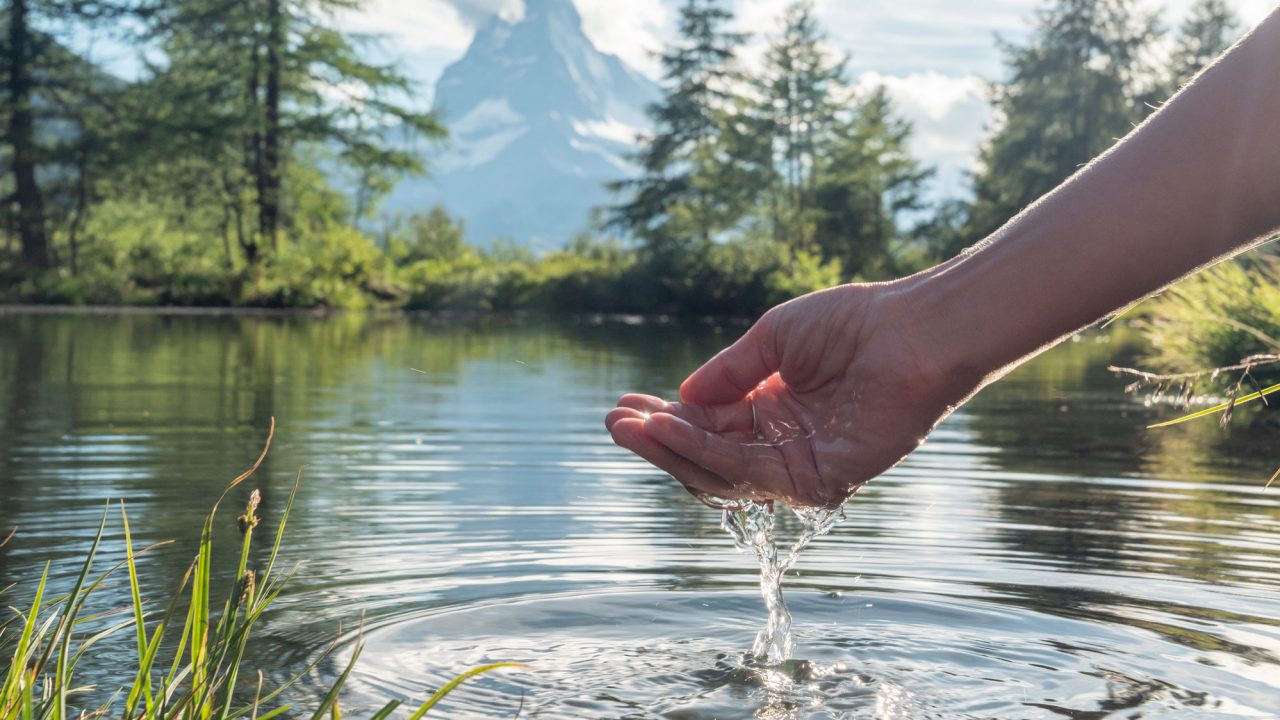 Filtration for cleaner water: Solutions against water pollution
Because every drop counts
Did you know that around 8,000 liters of water are used to produce a single pair of jeans? And that an average person drinks at least 40,000 liters of water in the course of a lifetime? The daily demand for industrial and drinking water is enormous.
But our planet is running out of clean water. And while it's true that more than two-thirds of the earth's surface consists of water, less than 3% of it is actually usable. Water pollution and droughts have massive consequences both for people and the environment.
3.4 M.
people worldwide die each year due to contaminated water
9 bn. m³
is the annual volume of wastewater in Germany alone
99.99999 %
of bacteria and parasites in water can be filtered by us
MANN+HUMMEL is one of the leading suppliers of water filtration solutions worldwide. We offer sustainable solutions against water pollution from germs and parasites, plastics, industrial chemicals and more. Our brands and products provide pioneering water filtration that addresses current and future threats.
State-of-the-art filtration solutions against water pollution
For us, leadership in filtration means providing effective water pollution solutions with state-of-the-art filtration, treating water to the highest quality, and paving the way to Zero Water Waste. Our water filters are used in municipalities and public institutions, private households, commercial buildings and industries, among others. Our goal: cleaner water for all.
Whether with membrane bioreactors or drinking water filtration systems, MANN+HUMMEL provides solutions for public institutions, commercial and industrial sectors, and for private individuals too:
From reverse osmosis to nano-, ultra-, micro- and coarse filtration

Cartridge and membrane technologies for pure water
Broad portfolio covering all areas of application
Our MANN+HUMMEL water filtration brands at a glance
MANN+HUMMEL Water & Membrane Solutions

provide the right membrane and filtration solutions for individual water and wastewater requirements. We are leaders in the field of wastewater treatment when it comes to micropollutants and multidrug-resistant bacteria and germs, industrial processes, pure and ultra-pure water and seawater desalination. This is how we contribute to a sustainable, cleaner planet.
The

Seccua

brand provides drinking water treatment solutions for private households, public buildings, commercial enterprises and municipalities. Our solutions are installed at the point-of-entry (where the main water line enters into the building), at the point-of-use (tap point) or at the waterworks. Germs, pollutants, and particles are reliably kept out of the drinking water by membrane filtration and adsorption.


STREAMETRIC

stands for predictive analytics for everything that flows. The software provides remote monitoring, data management and predictive maintenance of water and wastewater plants for professionals in the water industry.
We filter water because clean water means life
The MANN+HUMMEL WATER FILTRATION portfolio is designed for all applications, industries and challenges. Our filtration solutions protect against water pollutants wherever needed. They stand for water purification that sets standards and can also ensure water supplies in the future.

Municipal wastewater treatment: with our wastewater filtration, wastewater treatment plants arm themselves against micropollutants, germs and parasites, microplastics and drug residues.
Industrial wastewater treatment: wherever it's particularly important to conserve resources, the industry relies on wastewater treatment by MANN+HUMMEL. Our solutions keep industrial water in the process - which reduces waste and lowers costs. 
Drinking water: our solutions enable hygienic, clean drinking water in private households, in commercial buildings and public facilities - from municipal water suppliers, for private water suppliers and in medical facilities. Sustainably, without chemicals and without UV irradiation.
Service water: we provide the highest quality industrial water for all technical, commercial, industrial, agricultural and social applications.
Ultra-pure water: we equip hospitals, pharmaceutical manufacturers, and the electronics industry with solutions for cleaning surgical instruments, manufacturing medications, and producing computer chips, for example. All made possible thanks to pure water that protects people, the environment and machines.
Process and special applications: MANN+HUMMEL water filtration is highly effective. Our solutions protect internal recycling processes and revitalize water. That's why we partner with manufacturers in the Food & Beverage industry and in the pharmaceutical sector, where safe, sustainable process water is a top priority. 
Seawater desalination: this is why we designed our reverse osmosis membranes. They are ideal for treating water with high salt content. This enables us to obtain water for drinking, irrigation, industrial as well as municipal use. This is how we counteract the global water shortage.
Services: we are happy to share our knowledge. Whether it's technical advice for companies, municipalities or private individuals, after-sales services, or IoT solutions for more efficient water management thanks to

Streametric.

We are there when it comes to cleaner water.
The danger is in the water: microplastics, pharmaceutical residues and other threats
Plastic continents of unimaginable size float in our oceans. In many countries, industries discharge pollutants unfiltered directly into rivers, lakes, and oceans. Disasters like the fish kill in the Oder River in 2022 or the train accident in Ohio, USA, in February 2023 have shown how quickly the consequences of water pollution can affect everyone's lives.
But what kind of substances, germs and particles are actually in polluted water?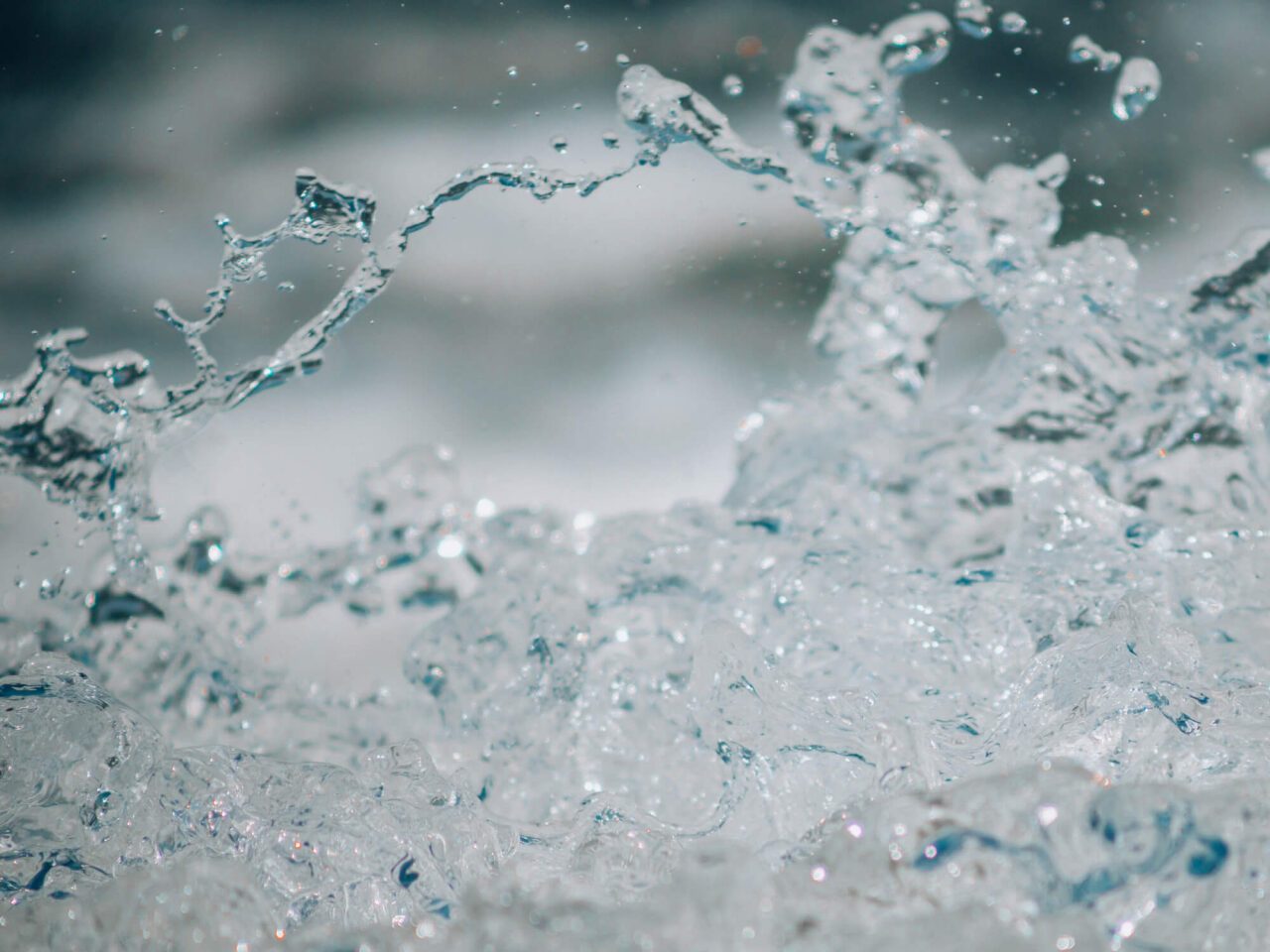 Micropollutants
Microscopic pollutants such as PFAS enter the water through pesticides or industrial chemicals, among other substances.
Drug residues
Drug residues enter wastewater - as part of the water cycle - via human urine or improper disposal, for example.
Germs and parasites
From life-threatening legionella to worms: in many regions of the world, water is made undrinkable by the large numbers of germs and parasites.
Multidrug-resistant germs
Many bacteria, viruses or fungi are immune to antibiotics, antivirals, and antifungals. They enter the environment via manure or wastewater.
Microplastics
These plastic particles with a size <5mm, produced by processes like tire abrasion, get into wastewater via cosmetic residues or directly into the sea through industrial waste.
Turbidity and other particles
Turbid matter caused, for example, by rust, plastic abrasion or construction dust in the pipes, can negatively impact the quality of life or even harm people's health.
Water & Membrane Solutions - Rethinking wastewater treatment
Threats in water often arise from inadequate wastewater treatment. Close to hospitals, for example, elevated levels of antibiotics are found in the water, which can increase the development of multidrug-resistant germs. Hormones in the water lead to a feminization of fish stocks, which would massively reduce fishery resources in the long run. Chemicals or cosmetics are often incorrectly disposed of by industry or households. Which is how trace substances and microplastics enter wastewater, leading to drastic health consequences. So, what can be done to clean water so that it can be safely reused?
We are a leading brand in wastewater treatment when it comes to micropollutants and multidrug-resistant bacteria and genes. Our solutions are used in numerous applications and products for wastewater treatment plants and more. Here is an example: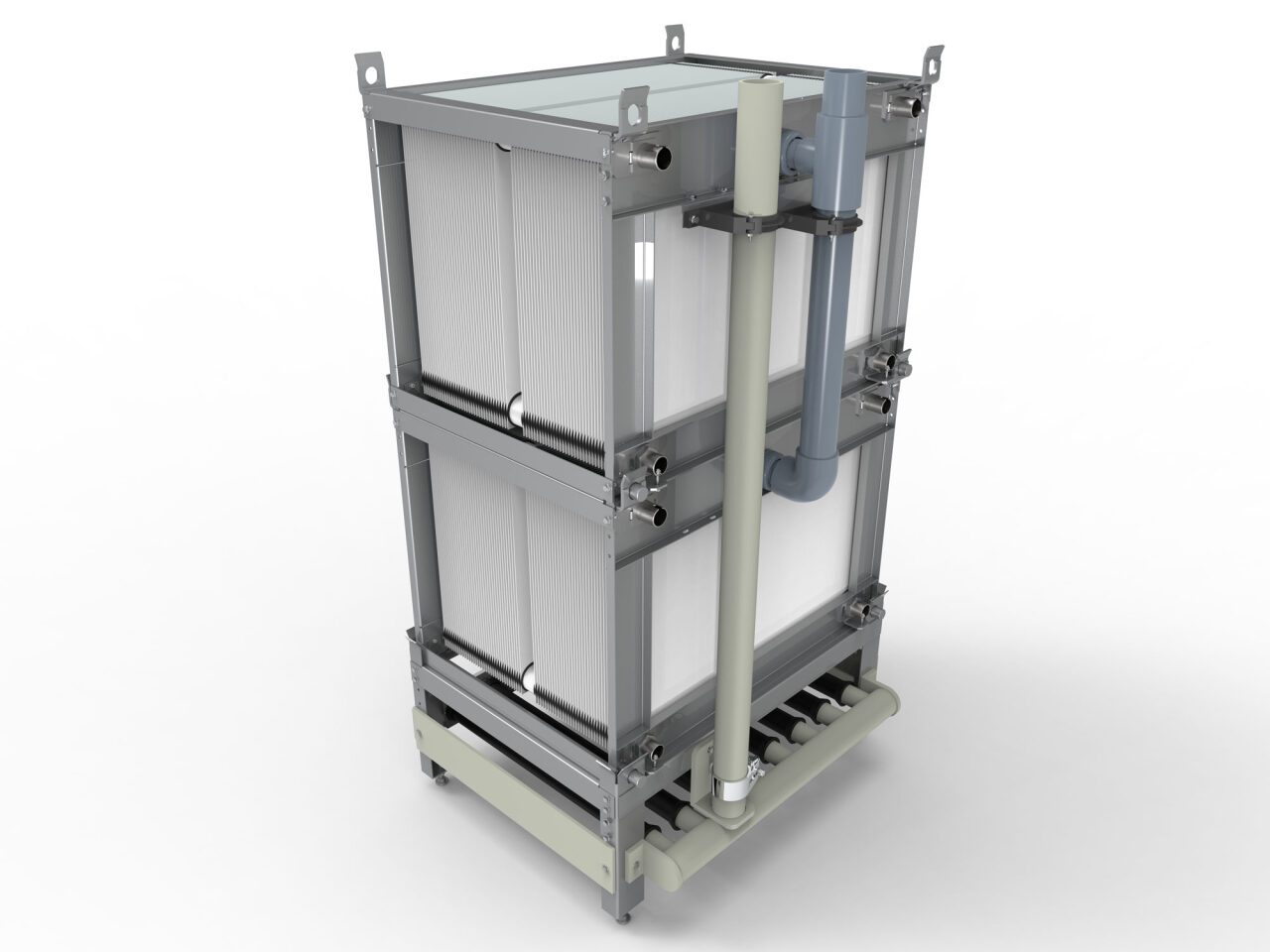 BIO-CEL® M+ 
BIO-CEL® M+ is equipped with a high performance ultrafiltration membrane, specifically designed and optimized by MANN+HUMMEL for use in membrane bioreactors. It provides increased longevity, support, and performance but also prevents antibiotic-resistant bacteria from entering the aquatic environment.
The main advantages over conventional activated sludge processes at a glance:
Higher biomass concentration and elimination of secondary clarifiers
Significantly improved effluent water quality
Increased efficiency and more compact designs thanks to 50-60% area savings
No need for separate 4th water treatment stage
Can be combined with activated carbon directly in the filtration tank
Can be directly incorporated into a secondary clarifier to convert a conventional wastewater treatment plant to a 4th or 5th water treatment stage (low conversion costs)
Seccua: Clean, hygienic drinking water for all
Seccua offers filtration solutions for single-family homes, private water suppliers, building services and for public drinking water supply. These solutions provide cleaner water directly at the point of entry - in an uncomplicated, effective and economical way.
UrSpring, the ultrafiltration system for private households, centrally retains pathogens, parasites, turbidity and particles. This high-performance water filtration system will also interest private water suppliers, small businesses and small medical facilities. To retain additional pollutants, use in combination with the BioFilter (for private households only).
Phoenix GT is the ultrafiltration solution for building operators who want to significantly reduce the risk of legionella contamination thanks to effective water treatment. Bacteria and other microorganisms are retained, ultimately depriving the biofilm of its nutritional basis.
The Phoenix ultrafiltration system for municipal drinking water suppliers removes turbidity, germs and parasites from surface-affected water. The high-resolution integrity test meets the stringent requirements of the U.S. Environmental Protection Agency (EPA) and, of course, Worksheet W 213-5 of the German Technical and Scientific Association for Gas and Water (DVGW).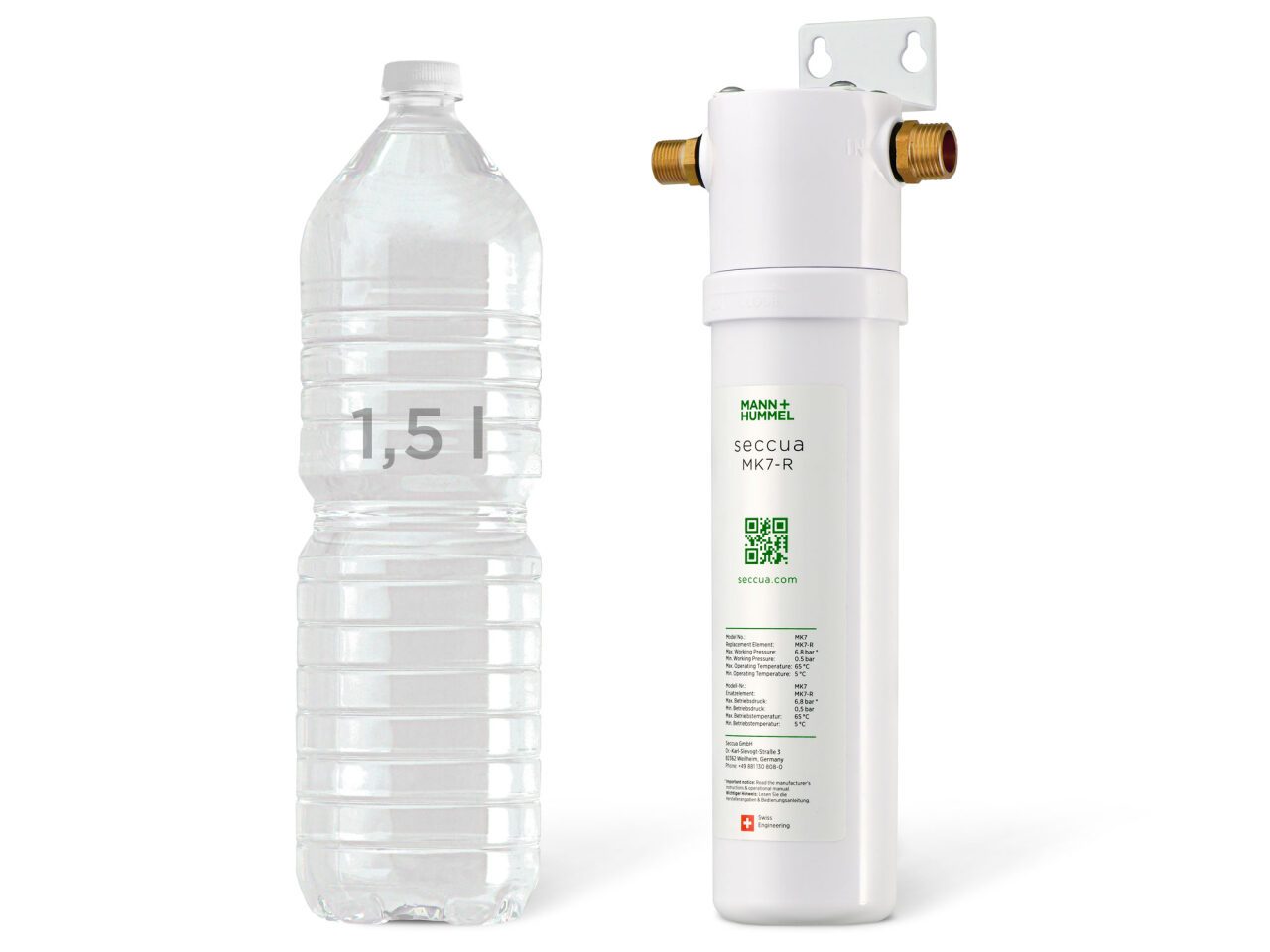 Seccua MK7
Brand new - the MK7 under-sink filter. Quick and easy to install under the kitchen sink in just a few steps. Clean and hygienic drinking water flows immediately from the kitchen tap.
The most important advantages at a glance:
Filtration is purely mechanical via water pressure
Facilitates the switch from bottled mineral water to inexpensive drinking water from the tap
Filters lime particles and microplastics, while good minerals remain in the water
Reduces unpleasant taste and odor
Water shortage: political and social consequences worldwide
Water shortage is already causing several conflicts. Political tensions repeatedly flare up not only in many water-scarce regions of the world, but also in water-rich countries like Germany, where falling groundwater levels and droughts have led to local water usage restrictions - with sometimes drastic penalties.

The political repercussions have had an impact on an international level as well:
Since 2015, the United Nations has been setting an example with the global initiative for sustainable development and the Sustainable Development Goals (SDGs) - including clean water and sanitation and the protection of life below water.
The EU published its legislative proposal for a revision of the existing Urban Wastewater Directive in October 2022. Whether it's the energy neutrality requirement, extended producer responsibility or the fourth treatment stage, municipalities and companies already have to make sure that they will meet the future requirements from the new directive by upgrading and/or retrofitting their plants accordingly.
Water filtration is an important milestone on our way to cleaner water for all. Our products prove that our drive for innovation and know-how creates solutions that serve everyone.
Do you have questions? Contact us!