Combi filter reduces pollutants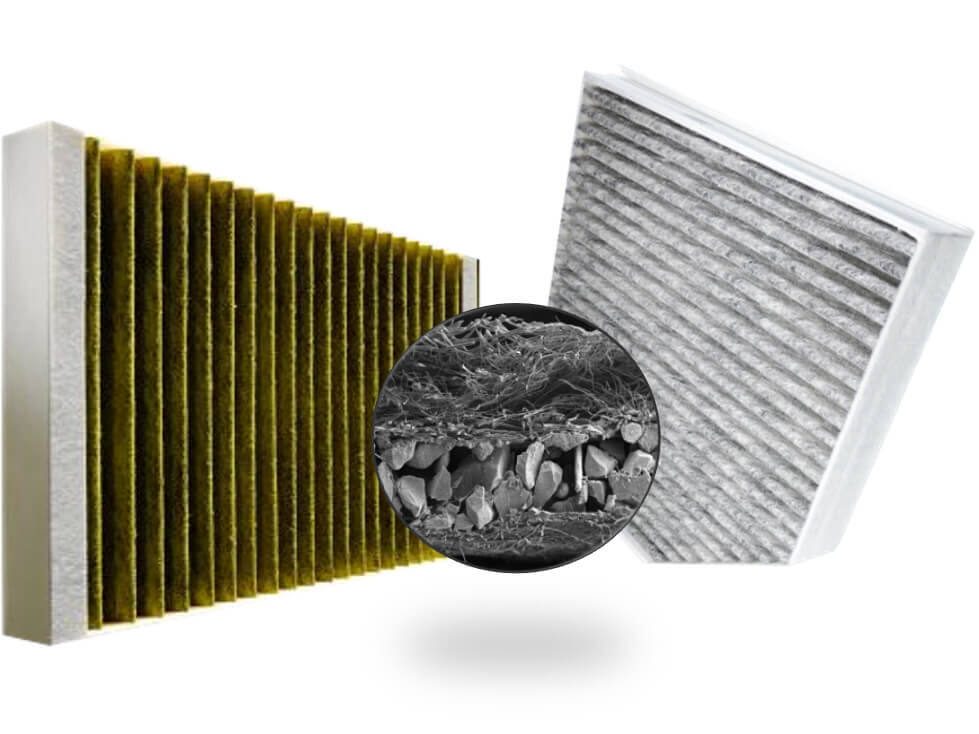 From left to right: MANN+HUMMEL biofunctional filter with activated carbon and an additional filter layer with biofunctional coating, SEM image of the activated carbon filter medium used, MANN+HUMMEL combi filter with activated carbon.
When it comes to effective health protection, MANN+HUMMEL cabin air filters for vehicles are an essential component.
Marklkofen/Himmelkron, September 2021 – Inconspicuous but essential: cabin air filters in vehicles play an essential role when it comes to effective health protection. This is because, despite modern exhaust gas purification systems in accordance with the EURO 6 standard, combustion engines still produce gases that are harmful to health, for example certain hydrocarbons and nitrogen oxides. Emissions from vehicle interior materials (including toluene, aldehydes) can also pose a health risk when volatile organic compounds in the form of aldehydes are outgassed from vehicle interior materials. On some days, the ozone concentration of the outside air is an additional burden for the human organism. 
"We have noticed that cabin air filters in vehicles are given far too little attention in the public debate," says Christoph Hitzke, Manager Development Cabin Air Filter - Gas Adsorption  at MANN+HUMMEL. "We want to change that, because with a view to health, this still inconspicuous topic is a very important component in protecting  people from pollutants in the air. The crucial thing is to take a holistic approach, and outdoor air quality is of course just as important," adds Hitzke. 
MANN+HUMMEL combi filter reduces harmful gases and odors
The MANN+HUMMEL combi filter for vehicle interiors contains activated carbon to protect people from harmful gases and unpleasant odors. Field studies in cooperation with the University of Heidelberg have shown that when the combi filter is used, the concentration of nitrogen dioxide in the vehicle interior is reduced by more than 90 percent. 
A classic combi filter from MANN+HUMMEL contains approximately 140 grams of highly active activated carbon. This has a porous framework that covers around 140,000 square meters of inner surface area; comparable to the size of 20 soccer fields. As soon as nitrogen oxides hit the activated carbon, some of them get stuck in the pores and are subsequently physically adsorbed there. Another part reacts with the humidity in the air, producing nitrous acid, which also remains in the filter. Another positive effect is that the toxic nitrogen dioxide is reduced to nitrogen monoxide in a catalytic reaction. The MANN+HUMMEL combi filter is thus able to reduce harmful gases and unpleasant odors by more than 90 percent compared to a conventional particle filter.
Even fine dust doesn't stand a chance with the combi filter - it can't get into the vehicle's interior. The biofunctional filters from the filtration specialist even retain allergens and virus aerosols for the most part. At the same time, the special coating prevents the growth of bacteria and mold. 
Background information
In recent years, nitrogen oxides (NOx) have played a particularly important role in media reporting. The current annual limit value for nitrogen oxides in the EU is 40 µg/m³.  For good reason: nitrogen dioxide (NO2) in particular irritates the respiratory tract, impairs lung function and can lead to serious cardiovascular diseases if higher concentrations are sustained over a longer period of time. Although NOx concentrations have been declining in recent years, individual major cities still exceed the annual average NOx limit. 
In addition, the World Health Organization (WHO), which assesses health risks from air pollution, presented its new guideline on air quality in mid-September. This contains significantly lower guideline values for the recommended maximum exposure to particulate matter and nitrogen dioxide (NO2) than before.
What is less known so far: In the cars themselves, the concentration is often significantly higher than a measuring station located directly next to them indicates for the ambient air. This is mainly due to the fact that exhaust gases from vehicles in front are drawn in via the vehicle's ventilation system, and these gases are highly concentrated in tunnels in particular. According to a study by the University of Heidelberg, vehicle occupants are often exposed to nitrogen oxide concentrations of between 90 µg/m³ in the city, 150 µg/m³ on the highway and up to 300 µg/m³ when driving through tunnels.