Nico Rosberg signs Air Purifier
Nico Rosberg, the former Formula 1 world champion and GREENTECH FESTIVAL co-founder, signs air purifier for a good cause
Auction to raise funds for 'Ein Herz für Kinder' foundation
Air purifier as an essential tool for the future of large events

Ludwigsburg/Berlin, 18 June 2021 - The GREENTECH FESTIVAL, one of the most important events for green technologies in the world, is in full swing. From 16 to 18 June, the hybrid event in Berlin is bringing together decision-makers from the worlds of economy, politics and business to discuss the subject of 'sustainability'. With the anti-viral air purifiers from MANN+HUMMEL visitors on-site remain safe and healthy during the event. It is thanks to these products, along with a few other measures, that the event is able to go ahead at all.
MANN+HUMMEL is GREENTECH's official hygiene partner
Together with its exhibition partner STRÖER, MANN+HUMMEL is using GREENTECH FESTIVAL to demonstrate how its innovative filtration solutions are helping to ensure that people all over the world have access to the basic human needs of clean air and water. But not only that – the filtration specialist from Ludwigsburg is also acting as the official hygiene partner for the event.
In total, MANN+HUMMEL has provided more than 50 anti-viral air purifiers, which have been spaced out across the 3500 m2 exhibition space at Kraftwerk Berlin and the Heeresbäckerei. These devices are an integral part of the event's official hygiene and safety concept and were the subject of particular interest during the approval process for the pilot project by the Berlin authorities.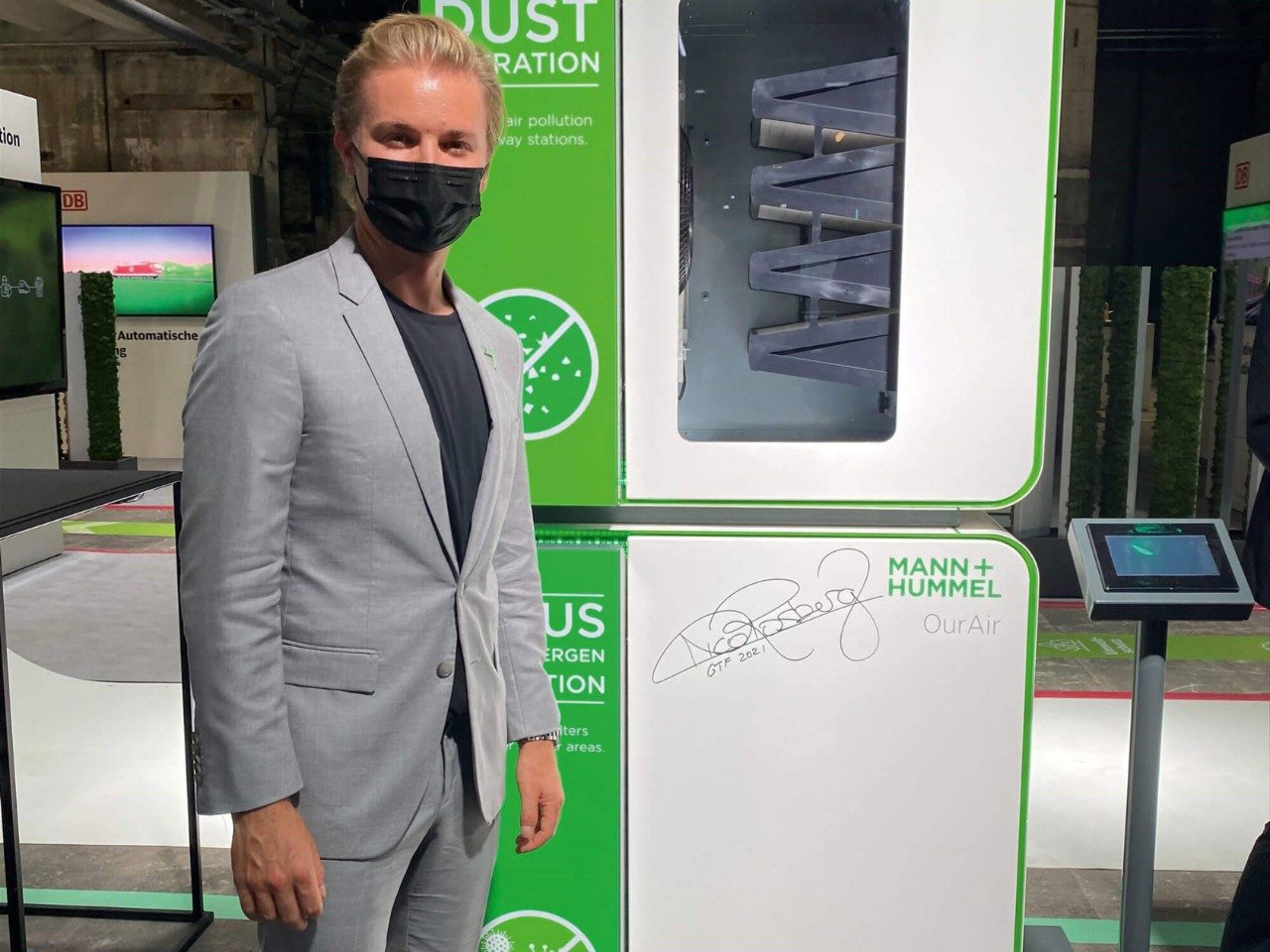 Nico Rosberg autographs air purifier for good cause
The former Formula 1 world champion and GREENTECH FESTIVAL co-founder Nico Rosberg visited the MANN+HUMMEL booth to autograph one of the 50 mobile air purifiers that is supplying clean, virus-free air throughout the event.
At the end of the festival, the signed air purifier will be auctioned off on the 'United Charity' portal to raise funds for the aid organization 'Ein Herz für Kinder' (A Heart for Children).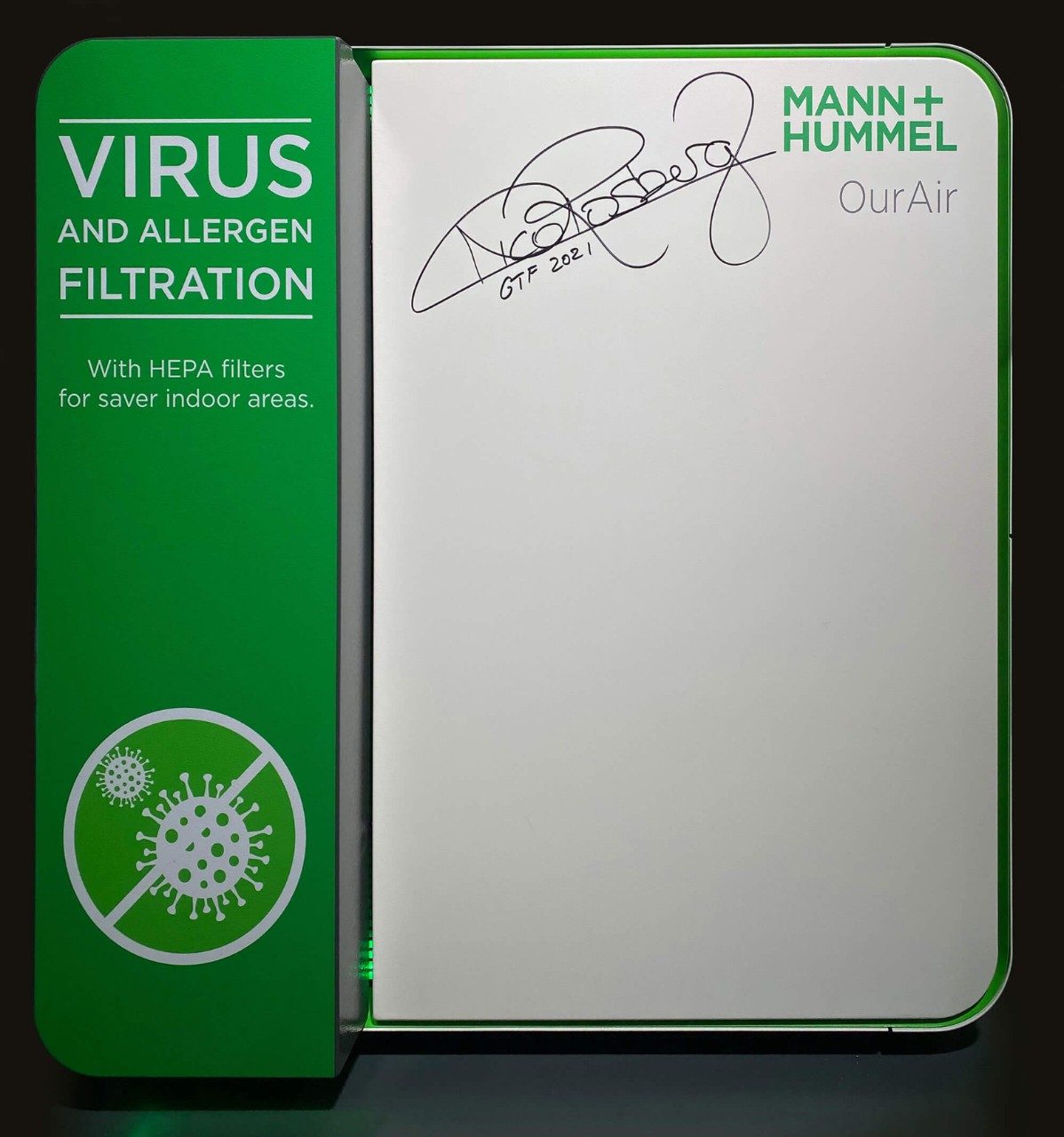 MANN+HUMMEL ensures clean air at the GREENTECH FESTIVAL with anti-viral air purifiers. An air purifier autographed by Nico Rosberg will be auctioned off for a good cause.
Jan-Eric Raschke, Director of Air Solutions Systems at MANN+HUMMEL, is happy not only to present technical innovations at the GREENTECH FESTIVAL, but also to put them to use right away: "It is brilliant to be able to help ensure this pilot project is carried out safely and to show how we can establish a new normality for events like this. Covid has been a real wake-up call for a lot of people when it comes to climate change and environmental protection. Issues like healthy air quality have taken on a whole new meaning during the pandemic."
Contact options and auction
Visitors to GREENTECH FESTIVAL in Berlin can go straight to the STRÖER and MANN+HUMMEL stand to find out about the various products and services, and speak to filtration experts about the equipment used at the festival.
For more information on mobile and stationary air purification products from MANN+HUMMEL, please visit ourair.com.
The auction is now running at www.unitedcharity.de