Regain Life Quality through Antiviral Air Purifiers
High-performance room air purifiers with HEPA filters
Filtration of more than 99.995 percent of viruses, bacteria and microorganisms from the air, including SARS-CoV-2
Quiet, highly efficient and attractive design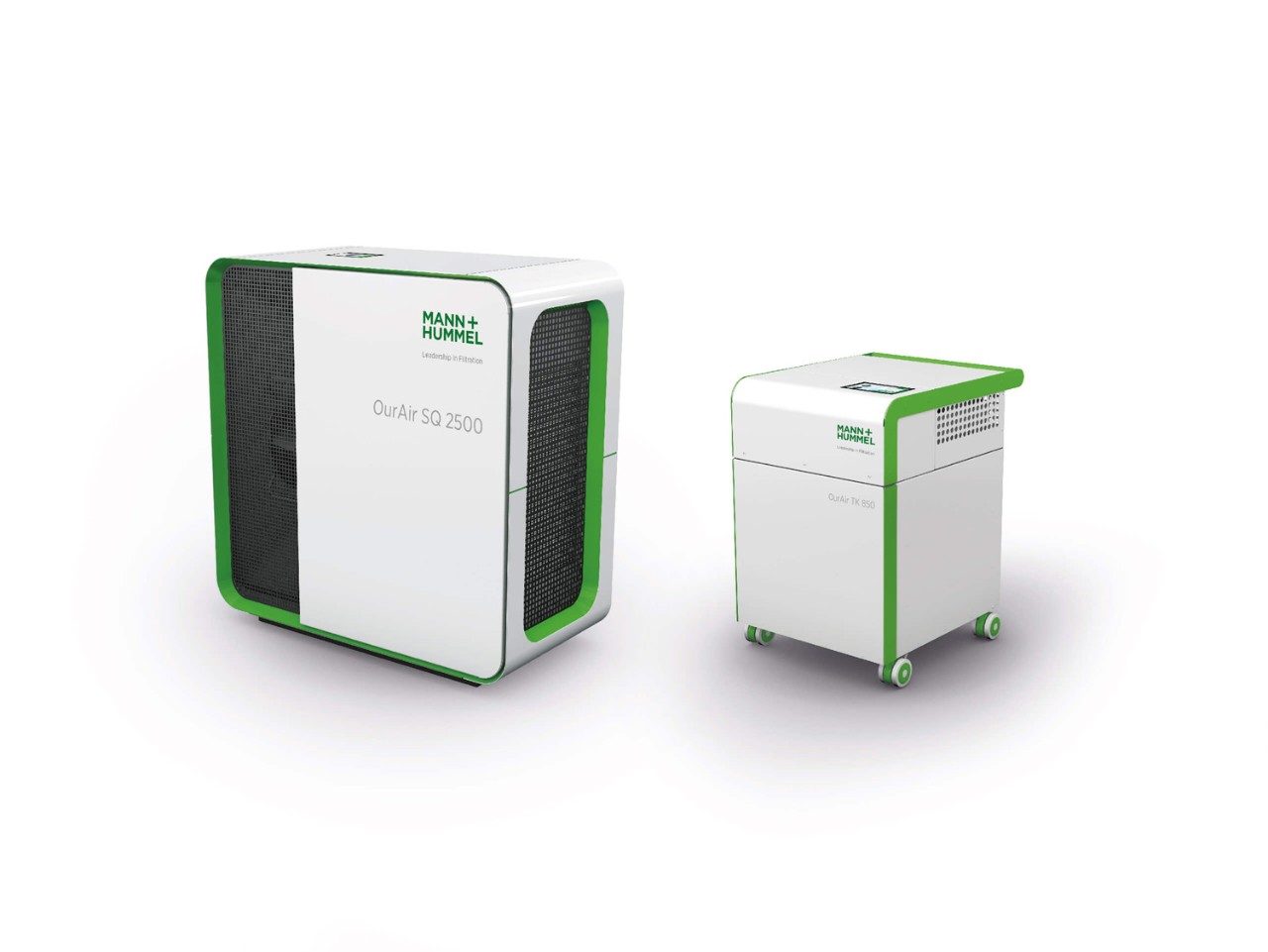 The MANN+HUMMEL OurAir SQ 2500 and OurAir TK 850
Ludwigsburg, September 29, 2020 – The MANN+HUMMEL Group has achieved an important breakthrough in the containment of the coronavirus pandemic: The development of a mobile and a stationary room air purifier, whose built-in HEPA H14 filters reliably remove more than 99.995 percent of viruses, bacteria and microorganisms from the air, while working virtually noiseless and having a modern design. Infectious virus particles, which can attach themselves to aerosols as for example SARS-CoV-2, are filtered out almost completely.
In the run-up to the GREENTECH Festival, MANN+HUMMEL presented the two new high-performance room air purifiers with HEPA H14 filters at the press conference on 15 September. These create an almost completely virus-free air in indoor spaces: the OurAir SQ 2500, which is suitable for spaces up to approx. 200 m², and the OurAir TK 850, which filters the air in indoor spaces of up to 70 m². Both devices exchange the air completely around five times per hour, so that premises can be used as usual even during the corona pandemic.
"Our antiviral air purifiers are a component on the way back to our social and economic life before corona. We are proud that the MANN+HUMMEL Group has succeeded in achieving this important breakthrough and look forward to seeing our systems soon being used in schools, restaurants, fitness studios, offices or at concerts and cultural events", explained Jan-Eric Raschke, Director & Chief Product Owner Public Air Solutions.
The benefits of the antiviral air purifiers are obvious: they are quiet, highly efficient and have an attractive design. The areas of application range from gastronomy to public institutions such as schools or care homes, offices, retail, airports, hospitals, shopping centres and industrial businesses right through to event venues and transportation.
Current measurements carried out by Prof. Achim Dittler from the Institute for Mechanical Process Engineering and Mechanics at Karlsruhe Institute of Technology (KIT) among others in the classroom of a primary school prove the high efficiency of the devices in reducing the aerosol concentration and therefore the risk of infection with viruses and bacteria.
Contact for product information