Batteries Charging the Revolution
Monday, March 5, 2018, 9:45 a.m. At the head office of the international filtration specialists MANN+HUMMEL in Ludwigsburg, Dr. Michael Harenbrock, Senior Expert E-Mobility, is waiting for his taxi. He's on his way to a conference taking place over the next few days in Berlin. A black car drives up to the building. The taxi company's yellow logo stretches across the front and back doors. Christoph Lehmler, a taxi driver in Ludwigsburg for the past seven years, gives Harenbrock a friendly hello.
Christoph Lehmler: Morning! Where are we going?
Michael Harenbrock: To the airport, please.
Christoph Lehmler: You're flying off to a meeting?
Michael Harenbrock: Yes, a conference in Berlin.
Christoph Lehmler: What's it about, if you don't mind me asking?
Michael Harenbrock: Electromobility.
Lehmler merges onto the A81 autobahn toward Stuttgart.
Christoph Lehmler: Oh, that sounds fascinating. After Dieselgate, interest in the topic has really exploded. You can't get away from it – emissions, vehicle bans, alternative drive systems, all that …
Michael Harenbrock: Do you sense that the discussions about banning vehicles are a worry for taxi companies?
Christoph Lehmler: I haven't sensed much worry. After all, I myself drive a hybrid, and it's also generally the case that you see more and more hybrid cars used as taxis, especially in big cities like Stuttgart or Munich. Sure, Germany isn't as advanced as countries like Holland when it comes to electromobility. If you go to Amsterdam, the taxis at the airport are almost all Teslas. Or Norway – they're pushing it far more strongly than we are.
Michael Harenbrock: It's true, the government there is heavily subsidizing it.
Christoph Lehmler: Have you been there?
Michael Harenbrock: Norway?
Christoph Lehmler: Yes.
Michael Harenbrock: No, I've never ventured so far north. I'm going to be in Asia for two weeks soon – Japan, then China and South Korea.
Christoph Lehmler: China wants to introduce a quota system for car manufacturers, forcing them to produce and sell a set percentage of electric cars …
Michael Harenbrock: Yes, there's lots going on. MANN+HUMMEL has several sites in China, and colleagues there also say how important it is that we address the topic of electromobility for Chinese customers. There's huge interest there at the moment and considerable need for us to do more in this field.
Christoph Lehmler: How do you mean?
Michael Harenbrock: All sorts of things – filtration for high-voltage batteries, for example. There are some solutions we've already established in Europe; our colleagues in Asia would also like to be able to offer them. In general, you get the feeling that widespread reporting in the media and all the rules and laws are making the need for action ever more urgent.
Christoph Lehmler: Quite honestly, it does sound a bit like scaremongering. The diesel engine is doomed and e-cars are loved ...
Michael Harenbrock: Yes, the debate has of course been exacerbated by events in the industry.
Christoph Lehmler: ... and then they keep going on about efficiency calculations, life cycle assessments, and so on. There's lots of contradictory information going around.
Michael Harenbrock: There are an incredible number of studies that reach all number of conclusions. Basically, you can just choose the study that best matches your own opinion and then quote it. It's like comparing apples and oranges, and drawing the conclusion that best affirms a certain opinion. Things like that annoy me.
Christoph Lehmler: In the end, what really matters is the total energy balance, something that's often ignored.
Michael Harenbrock: That's true. And it doesn't only concern production. Recycling is part of it. At any rate, we need to do something if we want to get on top of climate change. And something else: may the better solution win. Another way of cutting emissions would be to make traffic flow better or reduce the number of roadwork sites ...
Christoph Lehmler:  … or have fewer speed limits … (laughs).
There's a long line of cars coming out of the Engelberg tunnel. The taxi isn't making much progress. Road signs now point the way: Stuttgart-Airport/Fair.
Christoph Lehmler: So what do you think about other fuels – natural gas, liquid gas, and so on – that produce lower emissions?
Michael Harenbrock: That's certainly an interesting solution for truck traffic. Trucks can't run on batteries, which would be too big. If you powered them with gas instead of diesel, you'd have far lower emissions as well as improved fuel economy. I can see that being a success.
Christoph Lehmler: And what about the fuel cell?
Michael Harenbrock: Well, it's a topic I deal with on a regular basis, and to be quite honest, if you listen to what's happening in the market, the fuel cell is more likely to make sense for larger, heavier vehicles that cover long distances. For every extra kilometer of all-electric range, you'd need to include more battery cells. In a heavy vehicle, that's simply uneconomical, and I'm sure the fuel cell is a good option there.
Christoph Lehmler: When it comes to fuel cell technology, we should also be asking how best to produce the hydrogen. It can, as we know, be produced directly at filling stations. That, of course, is not as economical, but transporting the water is a simple affair. Or it could be produced centrally. Then, though, transportation would be more complex.
Michael Harenbrock: Yes, the hydrogen needs to be radically cooled or compressed; you need special tanks. And we mustn't forget the CO2
emissions that are produced when transporting the hydrogen to the filling stations. There's a lot of talk about synthetic fuels, e.g. CO2 from the air in combination with hydrogen. The benefit would be that existing filling stations continue to be used and hardly any changes to the engines are required. Manufacturers need to change far more for an electric motor.
Christoph Lehmler: Sometimes I feel that the car manufacturers themselves don't really know what strategy they should adopt.
Michael Harenbrock: Well, it's too early to say which system will ultimately come out on top. It's a huge challenge, and there simply isn't one single solution for the drive system of the future. That's why manufacturers are adopting different strategies. It's also a question of the financial risks associated with developing several solutions in parallel. We'll be seeing a mixture of drive concepts for many years yet. For the combustion engine, too, we're going to need new products. In the end, it's the customer who decides what they find appealing and how much more they are prepared to pay for it. But sure, that makes it a little more tricky for companies.
Christoph Lehmler: How does your company manage it?
Michael Harenbrock: We look at various options and dive in wherever we can deploy our expertise. I think that's a very sensible approach. MANN+HUMMEL doesn't work on any one specific way forward, in any case, but instead focuses on the idea of "clean transportation." We develop components for electric drive systems, as well as brake dust filters or solutions to filter the dirt in the air. After all, emissions don't all come from the drive system but also from road wear, brake dust, and so on. This means that business and government also have a part to play.
Christoph Lehmler: We've had subsidies for electric vehicles, but are they always a success?
Michael Harenbrock: No matter what the subject is – it always takes years before these developments are widely accepted, if at all. They need to be pushed from all sides. In the end, subsidies like these can only help to bridge over the initial start-up phase. Over time, enough vehicles are produced to yield the cost benefits of mass production and make them affordable for all. It can't be right that subsidies are constantly needed.
Christoph Lehmler: Otherwise people would complain that taxpayers' money is being used. There's always something to moan about (laughs).
Michael Harenbrock: That's certainly true.
Lehmler takes exit 53a: Stuttgart-Airport/Fair. The runway is just visible.
Christoph Lehmler: So, almost there. It's busy again today. But that's normal in Stuttgart.
Michael Harenbrock: It always is around the exhibition center. There was a big e-mobility trade fair here in October, and we exhibited a number of our products. It was great – but the traffic! Disastrous ...
Christoph Lehmler: I'll bet.
Lehmler and Harenbrock reach the airport building. They say goodbye outside the departure hall of terminal 3.
Christoph Lehmler: So, here we are. I hope you have a good conference. And a good flight!
Michael Harenbrock: Thanks. Have a good day!
Christoph Lehmler: Thanks!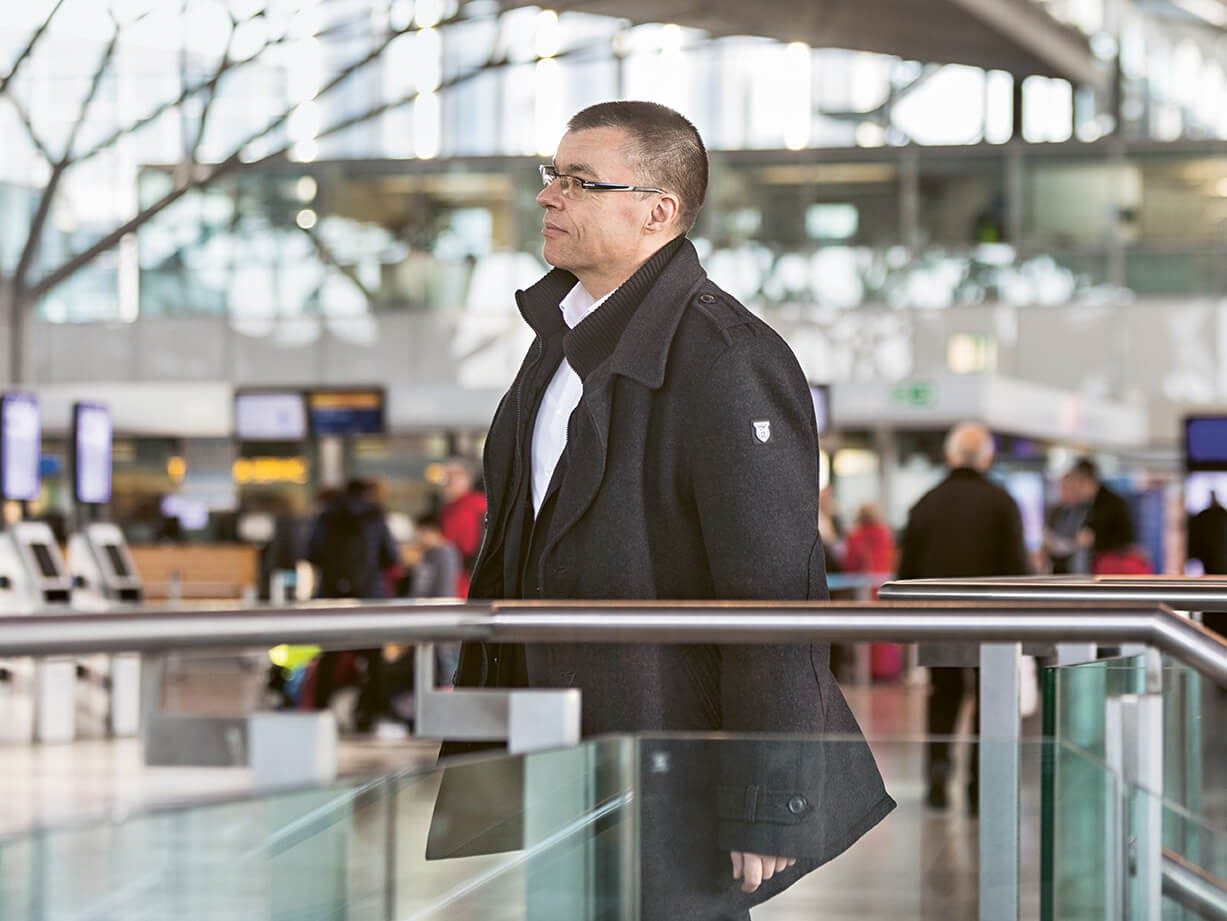 Dr. Michael Harenbrock
Senior Expert Electric Mobility at MANN+HUMMEL and a PhD chemist, has worked for the company since December 1998. He identifies technology trends, analyzes market developments, and uses the results to design new innovation projects for electrified drive systems and fuel cell systems.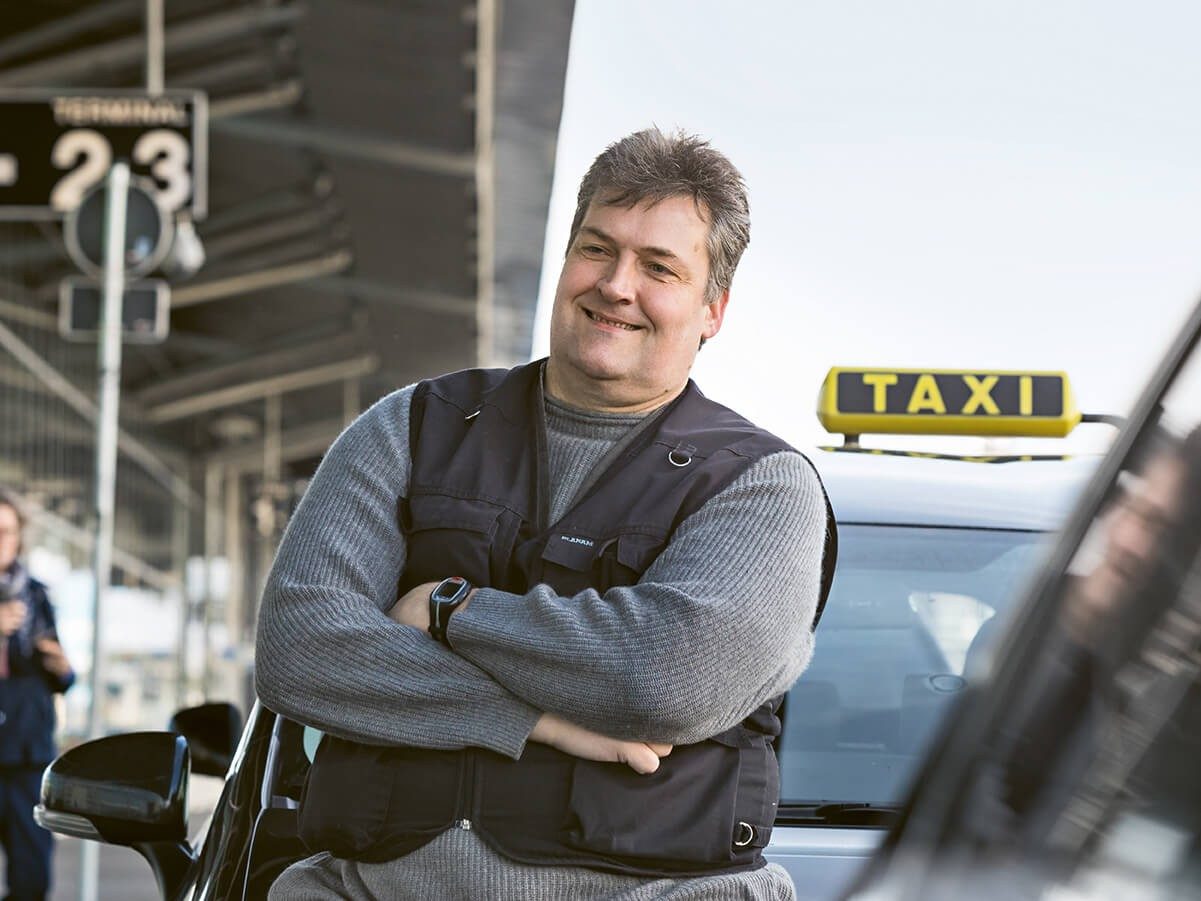 Christoph Lehmler
Christoph Lehmler has been a driver for Taxi Bleile in Ludwigsburg since 2011. Prior to this, the Rhinelander worked as a data entry clerk for a banking services company. In addition to electromobility, his interests include music, sports, people, and cars.