Cabin Air Filters in Cars - for a Clean Drive
To breathe freely inside your vehicle
More and more people nowadays suffer from allergies. To give these people protection, MANN+HUMMEL has developed a cabin air filter for cars which also adsorbs allergenic substances and simultaneously prevents bacteria from entering the cabin of the car through the ventilation or ac (air conditioning) system.

For some years now, the World Health Organization has classified allergies as the fourth most common chronic illness worldwide. This is because more and more people today suffer from allergic reactions which means that their immune system is hypersensitive. This is no surprise as pollen, bacteria and mold continue to penetrate further into our everyday life, as well as into the car. Besides them being annoying and polluting the air inside the vehicle, they endanger road safety for passengers because if the driver suddenly has to sneeze, your ability will be distracted for about two seconds. This could restrict your ability to react in time and to have a longer braking distance. 
The function of cabin air filters in cars
Do cabin air filters make a difference? When driving, up to 540,000 liters per hour of air flow through the air conditioning system into the vehicle interior. This also attracts dust, odors and gases. Reliable filtration solutions in the automotive sector are therefore essential components. So what does a cabin air filter do for your car? Conventional cabin air filters ensure that both, the air conditioning system and the occupants in the car are protected from small and coarse particles. However, the protection of vehicle occupants from other substances that are harmful to health is becoming increasingly important. The protection of the driver and vehicle occupants against pollen and bacteria requires the use of effective automotive cabin air filters. This is because during the pollen season, there are roughly 3,000 types of pollen in just one milliliter of air, which can severely burden allergy sufferers in the car. It sounds like a huge task for the cabin microfilter. And that is just what it is.
But MANN+HUMMEL is more than capable of meeting this challenge. Thanks to many years of research and development know-how, MANN+HUMMEL has developed an efficient solution. This is a cabin air filter which adsorbs allergens in addition to small and coarse particles. The pollen filter in the car also prevents harmful bacteria and mold from entering the passenger compartment through the ventilation or air conditioning system.
Reduction of fine dust, harmful gases and odors
How does it work? Through the use of very special filter layers. First, the cabin air filter in the car almost completely separates both, coarse particles such as dust, pollen and tire abrasion and the smallest respirable particles such as fine dust. A second layer of the cabin air filter - the activated carbon layer – provides additional protection. Harmful gases, unpleasant odors, as well as ozone, nitrogen oxide and sulfur dioxide can cause headaches and disrupt concentration while driving. The activated carbon layer of the cabin air filter provides a significant advantage over a conventional dust and pollen filter in the car: it adsorbs these harmful gases and unpleasant odors from the circulating air.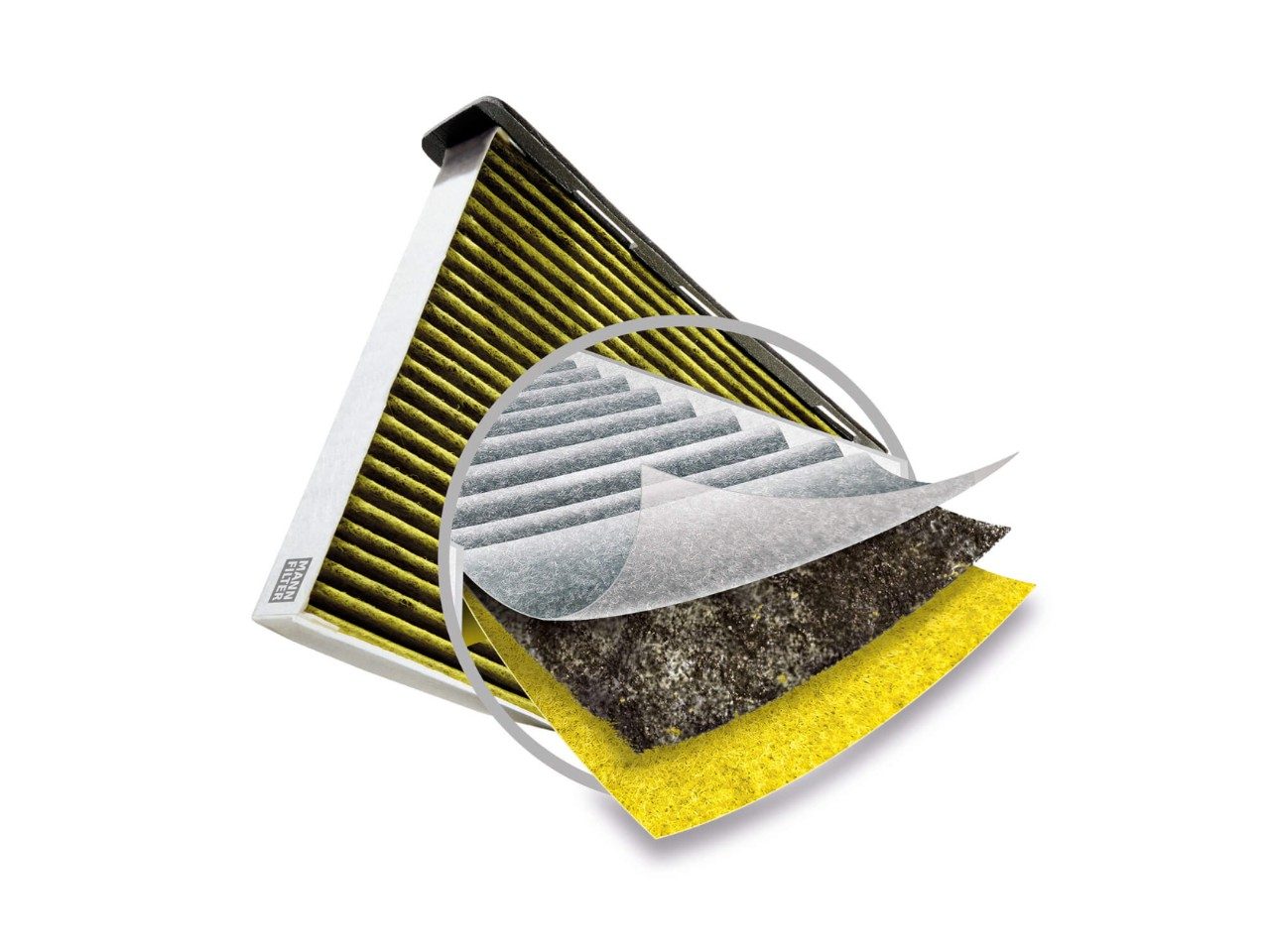 Three layers technology for comfort and safety
Biofunctional coating to protect against allergens
In addition to the particle filter layer and the activated carbon layer, this pollen filter is equipped with a third layer - a specifically developed biofunctional coating containing polyphenols. Polyphenols are natural products with an anti-inflammatory effect and are considered to promote good health. They are present in plants such as green tea as well as fruits like apples, grapes or pomegranates and have the ability to adsorb allergens and make them harmless. This smart mechanism is used by MANN+HUMMEL and ensures that allergy sufferers can breathe freely thanks to the cabin air filter in the car.
Nipping a disease early in the bud
The biofunctional coating has an additional antimicrobial effect due to applied biocidal substance. It inhibits the growth of bacteria and mold on the filter by more than 95 percent.
You wonder what makes our biofunctional cabin air filters the best in market? Even standard car ac filters from MANN+HUMMEL contain an extremely high separation particle filter layer, which can filter the smallest particles and soot. The particles that are critical to health and cause allergies, however, are often in the nm range and can overcome even a highly separating particle filter layer and thus penetrate into the vehicle interior. That is why biofunctional cabin air filters offer comprehensive protection for the ventilation system, driver and passengers. 
Protection for air conditioning system and vehicle occupants from coarse and smallest particles
Elimination of unpleasant odors and harmful gases such as ozone, nitrogen oxide and sulfur dioxide for concentrated and pleasant driving
Prevents the penetration and spread of bacteria and mold 
Absorbs over 95% of allergens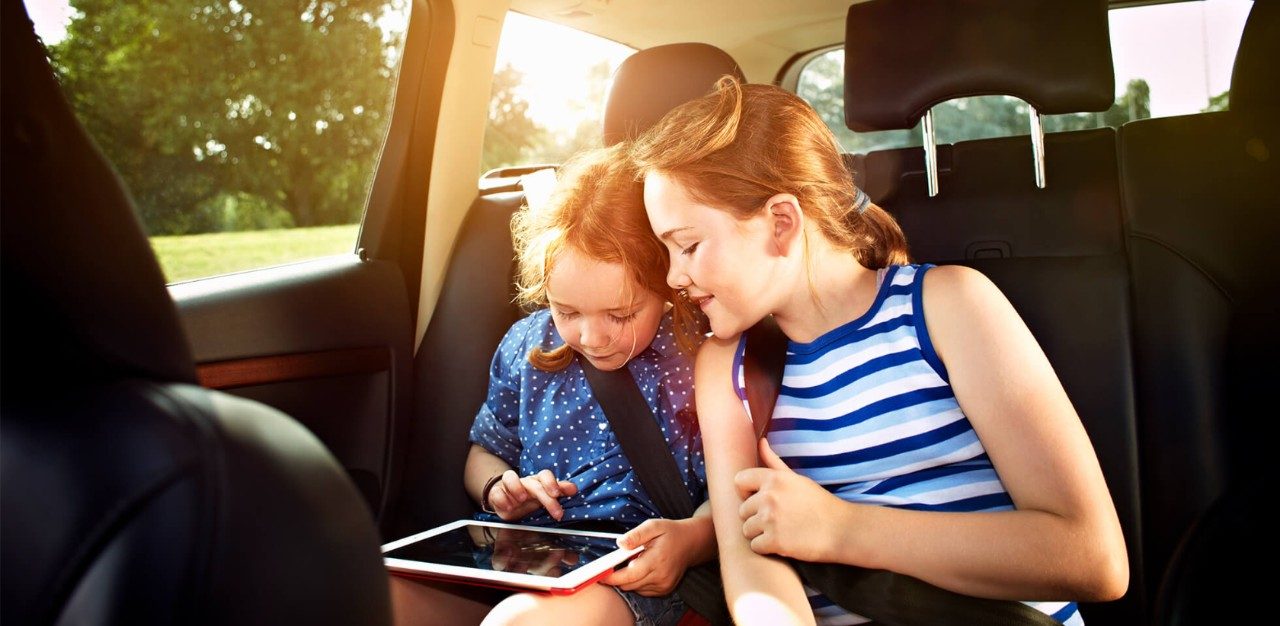 How often to change the filter for a constant protection?
To maintain the reliable protection of the biofunctional pollen filter, the cabin air filter should be maintained and replaced regularly. It is recommended to change the biofunctional cabin air filter at least once a year or every 30,000 km due to its multiple tasks. Signs that a change is necessary can include unpleasant odors, regularly fogging windshields or unusual noises. Regular replacement also ensures that the functionality of the air conditioner is maintained.